By Amy Norton
April 30, 2020 - 10:41am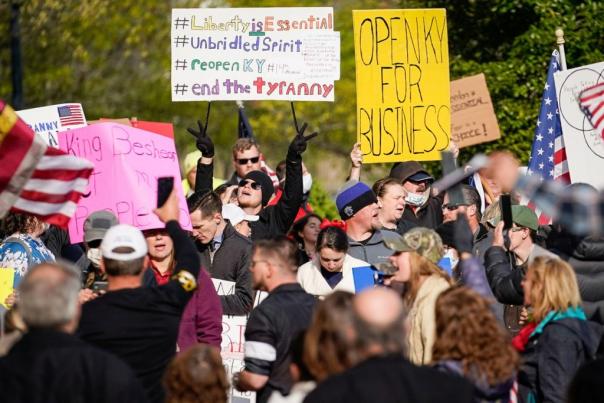 In our pre-pandemic world, Kent, Jaz, Susan and I talked about preaching on the Book of Acts during Eastertide. Rather than following the lectionary, however, which does indeed include many passages from Acts during this season, we decided we'd pick out passages ourselves, some of which never made it into the lectionary and may even be the first time you've heard them!
This week's passage is one of those not-in-the-lectionary stories, and after you hear it you'll maybe have an idea why. It picks up after last week's story, where we hear about members of the early church selling their belongings to contribute the proceeds to the group so that everyone would be able to have food, clothing, shelter, etc. This week, we hear of a couple who only gave a portion of the proceeds from selling their land but said that they gave it all. And then they dropped dead. Perfect for stewardship season, right?
Wait. What? While we (your pastors and church leadership) appreciate the value of 'afflicting the comfortable' as well as 'comforting the afflicted', the last thing we would ever even dream of doing is coercing a pledge via threats and fear tactics. So what's going on in this story, then? Why preach it? What gives?
Lately, I wonder if the modern day parallel to this story is all the anti-social-distancing protests happening in various states, where folks tightly gather without masks to demand that their elected leaders permit shops and businesses to re-open. I wonder how many of them will be on ventilators in 2 or 3 weeks' time. I wonder how many of them understand the risk they are taking with their own lives and the lives of their families by gathering in such a way. I find myself hoping they don't understand the risks- because understanding the risks and taking them anyway? That's when I start to see the parallels with a story about people who died after not taking community interdependence seriously.
Join us for worship on Sunday at 11am on our YouYube channel to wrestle with this text, sing, and praise God together.  
As it is a communion Sunday, before the time of the service you will want to prepare a slice or a small loaf of any kind of bread to share and a cup or small cups of juice — perhaps grape or cranberry — or wine, with or without alcohol. Set these elements in the living room or kitchen where you experience worship electronically with our faith community. Perhaps you want to put them on a lovely cloth or fabric that reminds you of a special time or person. Perhaps light a candle or place a flower or the photograph of someone you wish to bring into the circle of faith beside the bread and the cup.
This Sunday is also when Project Bread is hosting its virtual Walk for Hunger; our Missions Giving team has issued a challenge grant of $5,000 for the congregation to try to match- to contribute and support Project Bread, click here!
After worship (in addition to Virtual Coffee Hour), we will be hosting a children's social hour! We invite all children Elementary through High School to join us online (where we will break into age groups) to hang out, chat, and play some games. Joining information will be emailed to parents, so keep an eye on your inboxes! 
See you Sunday,
Amy 
If you'd like to read, watch or listen to previous sermons and/or worship services, please click here.
Image credit: Bryan Woolston/Reuters