By Kent French
April 23, 2020 - 10:18am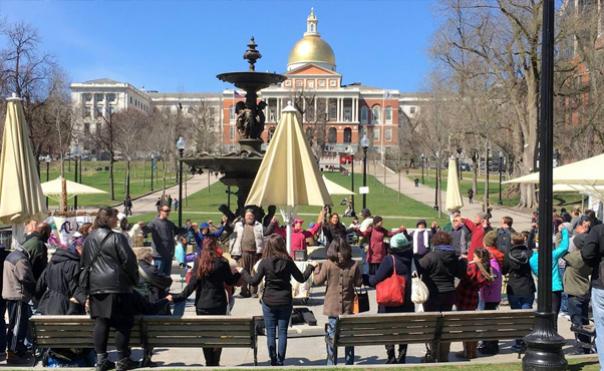 We are now in the great Fifty Days of Eastertide that stretch from Easter (April 12) to Pentecost (May 31), in which we celebrate the risen Christ in our midst. We actually celebrate this all year long, but we especially highlight it during this season. This coincides with our Stewardship season, in which we renew our commitment to our parish's common life, and think about how each of us will contribute our time, talents and finances for our shared ministry in the coming program and fiscal year (July 2020-June 2021).
This coming Sunday, we will honor the ministry of our dear friend and United Parish member, Laura Shatzer. Laura has just completed five years in an innovative and adventurous ministry, as a chaplain for common cathedral, an outdoor church for unhoused and low-income people, their friends and supporters. She and her husband, Seth, are making a big change and are moving across the country this next week to Decorah, Iowa, where he will become the new pastor of the UCC church there.
Through Laura, common cathedral has become one of our ministry partners. For the past several years, we have celebrated their ministry in our own worship. We have made sandwiches, served lunch and participated in their worship on Boston Common, on hot, sweltering summer days and on cold winter days. We have welcomed artists from their weekly art studio, common art, purchased their art and shared lunch. Two of our members volunteer at common art and shared a beautiful reflection with us this past summer. And our youth have participated in their educational program, City Reach, in which they stay overnight at St. Paul's Cathedral, learn about homelessness with unhoused people teaching them about what it's like living on the street.
As a farewell and blessing, we invited Laura to join us in a Q&A-style sermon for this Sunday, in which we'll hear more about how she felt called to this ministry, what it's been like on the inside and how you and I may help sustain common cathedral and help our unhoused siblings going forward.
During this time of Eastertide stewardship, we are also looking at stories of one of the most adventurous books of the Bible, the Acts of the Apostles, and thinking about how the early followers of Jesus took risks, experimented, spoke and acted boldly and followed the prompting of the Holy Spirit in launching this movement that we are still following today. For Sunday, Laura chose a passage from Acts 4, about how the early Christians "were of one heart and soul, and no one claimed private ownership of any possessions, but everything they owned was held in common...and great grace was upon them all." And "there was not a needy person among them, for as many as owned lands or houses sold them and brought the proceeds of what was sold" (Acts 4:32-34).
Laura's ministry and the ways we have been able to intermingle with it has blessed and inspired many of us these past five years. I warmly invite you to join us this Sunday as we learn more about continuing the mission of common cathedral and blessing Laura on her way.
In faith,
Kent
Join us after worship for our first-ever Faith and Finance Seminar, 1-2:30pm.
For the first time, our Stewardship and Budget Ministry Team is offering a seminar to discuss our faith and finances.
How do we think about our expenditures and giving in light of our faith?
Why do we often have shame or guilt or difficulty in talking about money?
How are our finances structured here at United Parish?
We will delve into these questions and more. Led by our Senior Pastor, Kent, and our Seminarian Jaz Buchanan.
All are welcome for this Zoom seminar. For more information and the Zoom details, please email Kent or Jaz.
Join this year's virtual Walk for Hunger on Sunday, May 3. Read more here. In light of the economic effects of the current pandemic, supporting Project Bread and the Greater Boston Food Bank has never been more important. Our Missions Giving Team is offering a challenge grant of $5,000 for all of us to match by supporting the walk this year.
If you would like to check out recent online worship, visit our YouTube page here.
For previous sermons, click here.