Palm Sunday: The Lord Has Need of It
By Amy Norton
April 2, 2020 - 10:53am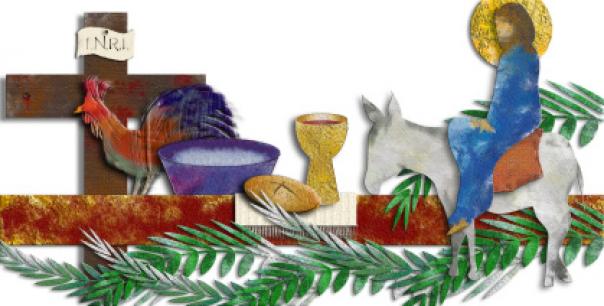 The year is...32...ish. No one has ever heard of coronavirus, let alone Zoom or Protestantism or Palm Sunday. It's early morning, and there you are in Bethphage, getting ready to load up your pottery on your donkey to head to market. You're bringing the colt, this time, too, to get her used to the route she'll soon take when she's strong enough to bear the weight of your wares. You pop back into your home to get your purse and when you come out, two men, clearly out-of-towners, are calling over to you, gesturing to your market load. 
"We're taking this; the Lord has need of it!"
But you're not falling for what is obviously a con. It took you too long to make that pottery and you weren't born yesterday.
"The Lord has need of it, my a--"
"--Well, actually, that's exactly what the Lord has sent us to retrieve!"
This is somewhat how I imagine the story going...what's conspicuously left out of the story, in my opinion, is whether or not the donkey and her colt ever get returned. It's about a 3 mile journey from Bethphage to Jerusalem, so it's not inconceivable that a couple of the more conscientious disciples went back to return them, but then again, things got pretty intense once Jesus arrived in Jerusalem so it's also not inconceivable that returning a donkey and colt slipped everyone's mind (though I bet it wouldn't have slipped Martha's mind). 
How do we respond when the Lord asks something of us? What if it's something we need? What if we're already hurting, struggling, pinching pennies to get by? What if we're not pinching pennies but we're scared that we'll need to start at any moment? The world is scary enough as it is right now, without out-of-towners requisitioning our trucks for God. Or our time. Or our masks. Or our stimulus checks. 
I've been thinking a lot about the phrase, "the Lord has need of it". I've also been thinking a lot about this modern version of Matthew 25:37-40, adapted by Maren Tirabassi (whose blog has been a buoy for my soul lately):
"Then the compassionate will answer, "O Holy One, when was it that we saw you jobless and delivered groceries, or lonely and drove by with balloons or wrote on your sidewalk? And when was it that we saw you at risk and did not cheat on the shelter-in-place though we could easily have done so without being caught, or frustrated to the point of explosion and played an online game with your kids? And when was it that we saw you sick and got the emergency responders or in quarantine-depression and phoned every single day?" And God will answer them, "Truly I tell you, just as you delivered and chalked, stayed at home, and forced an old mind to learn some new tech, made an emergency call or many boring ones … for one of the most vulnerable members of my family, you did it for me.""
Join us on YouTube Sunday morning (the link will be posted on our livestreaming page here) to explore what it means to focus a little less on saving our...donkey...and to trust that God knows the best use of our resources, and will tell us, if we listen. 
We will have palms available to pick up outside the church this Sunday 10am-1pm; since we're in the business of spreading peace and not germs, please take the first palm you touch. I encourage you to place the palm somewhere you will see it regularly throughout the week (and beyond), and every time you see it to stop, breath in God's peace, and breath out your fear or anxiety. 
This Sunday we will also share together Holy Communion in our online interactive worship. Before the time of the service you will want to prepare some bread, a slice or a small loaf of any kind of bread. In some parts of the world tortilla, rice cake, cassava are used as this element which is defined not as a wheat product but as the most common food of the people. Let it be something you alone or you with others in your house may break and share (crackers and cookies count!). Prepare a cup or cups of juice — perhaps grape or cranberry — or wine, with or without alcohol.
Set these elements in the living room or kitchen where you experience worship electronically with our faith community. Perhaps you want to put them on a lovely cloth or fabric that reminds you of a special time or a person deeply connected with you in the communion of saints. Perhaps you will light a candle or place a flower or plant or the photograph of someone you wish to bring into the circle of faith beside the bread and the cup.
Thank you for your preparation.
In faith,
Amy 
If you'd like to read last week's sermon, click here.
If you'd like to watch the previous worship services on YouTube, click here.
To keep up with our schedule of livestreamed worship, click here and check back often.
To continue this year's Lenten study, "Discernment: Finding Clarity in the Chaos," click here for the materials and resources.