Welcoming Methodist Bishop Devadhar
By Kent French
May 21, 2020 - 10:23am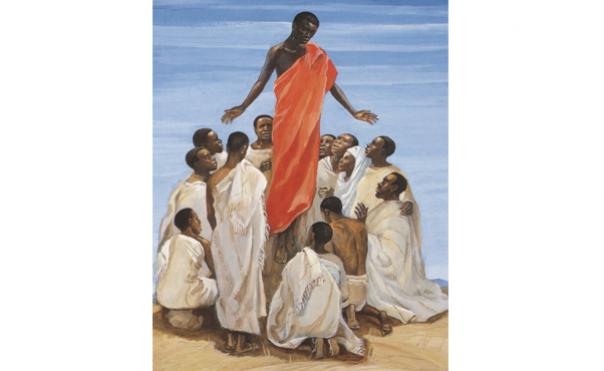 According to the Gospel accounts, after Jesus' resurrection, he hung out with his followers for awhile. They walked, talked and ate together. They consoled one another and revisited his teachings. We remember this time with our own liturgical Fifty Days of Easter (April 12-May 31 this year).
And then, he left them again and ascended into heaven. And that's when the movement started to take off. That's when it was up to his followers to take his ministry out into the world.
On Sunday, we're going to hear about this as we read the final passages of the Gospel of Luke, when Jesus spoke with some folks he met on the road to Emmaus, and then read the opening verses of Luke's sequel book, the Book of Acts (Luke 24:44-53, Acts 1:1-14). You may have noticed that we've been working backwards in the great adventurous Book of Acts since Easter day, starting in Chapter 5.
What does it mean to walk and talk, to hang out with Jesus now? What does it mean to be Easter people, following in the footsteps of the resurrection? What does it mean, as Jesus told his folks right before he floated upwards, to receive the power of the Holy Spirit? And not only receive it, but act on it in the world around us?
This Sunday, we welcome our New England United Methodist Bishop Sudarshana Devadhar, to explore these questions with us. He will challenge us to "get out of the frame" of our usual ways of looking at the world, to get beyond the usual prejudices and systems of oppression and seek to be bold like the early followers in the Book of Acts. His visit coincides with Methodist Heritage Day, celebrating our ties to the denomination through one of our parent churches, St. Mark's Methodist.
He will also join us in online Zoom Bible study at 10am and in Zoom Coffee Hour after worship, where he can also answer some of our questions about what is going on in the United Methodist Church, roiled in recent years and facing potential division by culture clashes around LGBTQ+ issues. If you'd like to join the Zoom Bible study, please contact biblestudy@upbrookline.org for access information.
In other news, earlier this week Governor Baker permitted the opening of houses of worship with certain limitations. You can read our own response to this news here.
I also remind you that last Sunday, May 17, we made our service and financial pledges for the year ahead. If you haven't yet made yours or would like to make them for the first time, please click here. We welcome any and all gifts to support our ongoing ministry during this challenging time of pandemic.
I look forward to welcoming you and Bishop Devadhar to our online worship on YouTube this Sunday!
In faith,
Kent 
To watch our online worship, visit our YouTube page here.
For previous sermons, click here.
Image credit: "The Ascension" from JESUS MAFA, a Christian community in Cameroon, archived with "Art in the Christian Tradition" a project of the Vanderbilt Divinity Library, Nashville, TN. http://diglib.library.vanderbilt.edu/act-imagelink.pl?RC=48398 [retrieved May 21, 2020]. Original source: http://www.librairie-emmanuel.fr (contact page: https://www.librairie-emmanuel.fr/contact).