Worship with Temple Shir Tikva
By Kent French
February 11, 2021 - 11:51am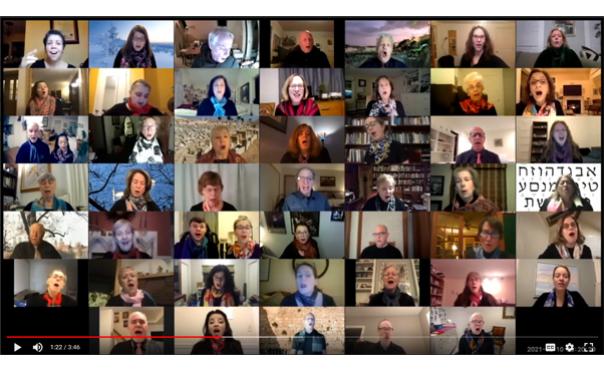 For nearly a decade, we have enjoyed a friendship and collaboration with Temple Shir Tikva in Wayland, led by the friendship between their Cantor Hollis Schachner and our Minister of Music Susan DeSelms.
This weekend, we celebrate this collaboration again, as our choirs lead us in songs that speak to our current moment of emerging from the "long, cold lonely winter" of 2020 that we might "lean into the light." Bringing music of Carrie Newcomer, the Beatles, spirituals and Jewish tradition, they will bring forth the promise that "the storm is passing over."
On Sunday morning, the Temple's Associate Rabbi Jordi Schuster Battis and our Associate Pastor Amy Norton will reflect together on these themes of light as they consider two women's songs from both our traditions: Hannah's song (1 Samuel 2:1-10) when she learns she will give birth to the prophet Samuel and Mary's Magnificat (Luke 1:46-55), in which she echoes her foremother's singing, after she learns she will give birth to Jesus of Nazareth.
On Friday night, February 12 starting at 6:15pm, please join us for Shabbat worship livestreamed on their YouTube channel and Facebook page. If you haven't been to a Shabbat worship before, I especially encourage you to come. Pastor Amy will offer a reflection. Details here.
On Sunday morning, February, 14 at 11am, tune in to our YouTube channel, for our combined worship.
We look forward to welcoming the light together!
In faith,
Kent
If you'd like to watch previous worship services, visit our YouTube page.
If you'd like to read, listen to or watch previous sermons, or subscribe to our podcast, click here.
Image credit: United Parish in Brookline. The choirs of United Parish and Shir Tikva singing together virtually, February 2021.