The Carolers are open to first through fifth/sixth graders. The Carolers are learning to lead worship and are really working at developing their musical skills. They are learning how to read music on the printed page, how to sing in parts, and how to play counter rhythms with each other on the drums. Carolers serve as leaders of worship and prayer by singing anthems, leading processionals, teaching new songs to the congregation, and sharing their songs with the community outside the church.
Rehearsals are Sunday mornings from 9:00 - 9:45 .m. in the Choir Room. Carolers sing about seven to eight times a year during the 11:00 a.m. worship service.
Latest Carolers News
Singers Needed
Posted:
Nov 17 2017 - 11:29am
Your (Tenor or Bass) Voice is Missing! The Chancel Choir has been growing, filling the church space and the heart space with their robust and prayerful sound. As our Soprano and Alto numbers have swelled this autumn, we are especially in need of Tenors and Basses (low voices) to come explore their place in the choir. We welcome singers of any experience level! If the spirit has been moving you towards joining your voice in song during service, please consider joining our vibrant musical community in this way. We need your voice! The Chancel Choir rehearses on Thursday evenings at 7pm, and Sunday mornings at 10am. We welcome new singers throughout the year, in our Carolers choir (1st grade - 6th/7th grade) and in our Youth Choir (7th/8th grade-12th grade) as well! Please see Susan DeSelms ([email protected]) or Liz Eschen ([email protected]) or any of the choir members in robes after the service if you have any questions about what it is all about!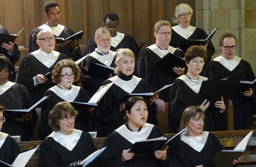 Choristers Guild Children's and Teen's Choir and Arts Festival
Posted:
Nov 9 2017 - 11:32am
Members of the United Parish Carolers and Youth Choir will join numerous other local choirs for this annual event. The kids will enjoy a full day of activities including singing, dancing, acting, costume making, handbell ringing, drumming, and art. Members of the United Parish community are welcome to attend the closing Festival Worship on Saturday, November 18 at 4pm at St. Andrew's Episcopal Church (79 Denton Road, Wellesley, MA 02482). Learn more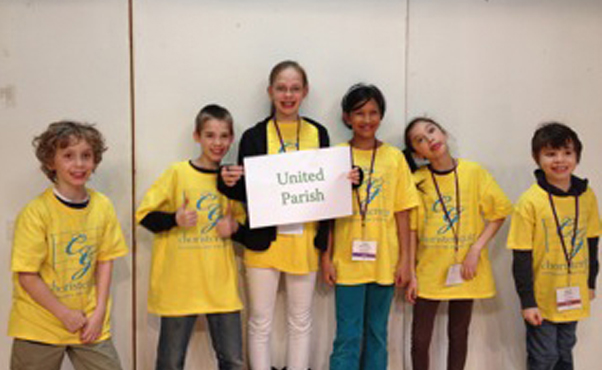 Choir Camp Fun!
Posted:
Sep 1 2017 - 9:39am
Summer Music Camp at United Parish was a big hit! Several talented children came together for a week of singing, learning, and playing. They learned new music for Christmas and Easter as well as some fun tunes for any time of year, and showed off their spectacular dance moves and singing at a performance for parents and staff at the end of the week. They debuted their new handbell skills such as change ringing, and impressed the adults in the audience with their sight reading. Special thanks to Trey Pratt, Susan DeSelms, Amy Norton, Bethany L., Kate H., and our teen volunteers.