The Carolers are open to first through fifth/sixth graders. The Carolers are learning to lead worship and are really working at developing their musical skills. They are learning how to read music on the printed page, how to sing in parts, and how to play counter rhythms with each other on the drums. Carolers serve as leaders of worship and prayer by singing anthems, leading processionals, teaching new songs to the congregation, and sharing their songs with the community outside the church.
Rehearsals are Sunday mornings from 9:00 - 9:45 .m. in the Choir Room. Carolers sing about seven to eight times a year during the 11:00 a.m. worship service.
Latest Carolers News
Where is the Love? Expressions of justice and faith Children and Youth Musical Presentation in Worship
Posted:
May 3 2018 - 3:48pm
Come experience the connections between our secular and spiritual worlds in this unique offering by the children and youth of United Parish on Sunday, May 20 during worship at 11am. Through contemporary songs from a wide range of musical styles, stories from today's news headlines, and modern images, our young people will share a heartfelt commentary about self-expression and the social justice issues they care about most.
There is something for everyone in this cabaret-style musical program that includes 60's rock, rap, R&B, musical theater, reggae, country, folk, gospel, and big band jazz to explore themes of gun violence, gender identity, racial justice, animal rights and more.
Come be inspired by the power of love to change the world.
Contact Susan DeSelms at susan@upbrookline.org for more information.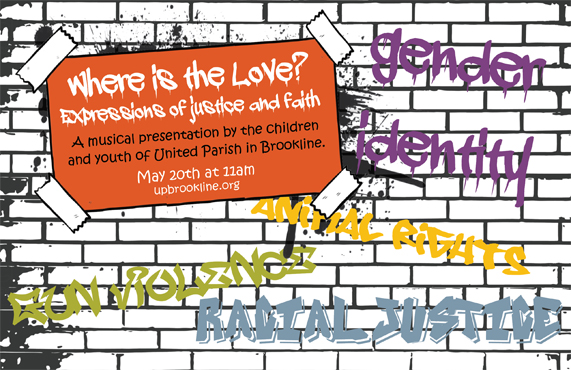 Summer Music and Arts Camp at United Parish
Posted:
Jan 24 2018 - 4:44pm
Mark your calendars for United Parish's music camp running Monday, August 27 through Friday, August 31, 2018 from 9am-3pm. Children entering grades 1-7 are encouraged to sign-up, and teens in grades 8 and up are welcome to volunteer as counselors. Contact Minister of Music, Susan DeSelms for more information at susan@upbrookline.org.
Sign up here.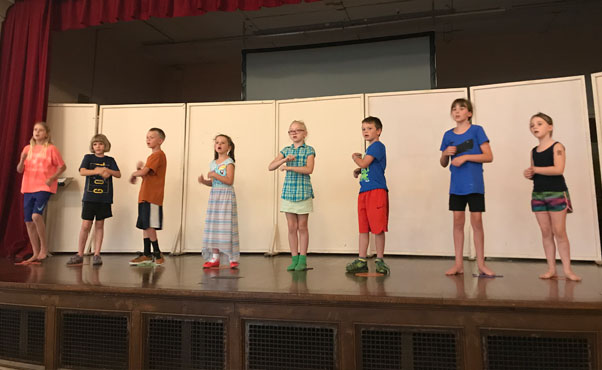 Winter Choir Retreat 2018
Posted:
Dec 8 2017 - 1:26pm
You and your children are invited to register for our annual Winter Retreat at Grotonwood in Groton, MA! The retreat spans from supper on Friday, January 19, through breakfast on Sunday, January 21. We will work on our spring musical. The weekend will also include fun, food, gym, snow, games, fellowship, and perhaps some quiet time for our wonderful parents!
Click here to see the flyer and learn more.