Church School (Pre-K thru 5th Grade)
The United Parish Church School is for children from pre-school to fifth grade. Children in these classes learn bible basics and explore the mystery and meaning of Scripture that mirrors the bible passages that pastors will preach upon in service. Our curriculum—Deep Blue Kids—seeks to empower, inspire, nurture and equip all God's children.
Latest Church School (Pre-K thru 6th Grade) News
Thank you, Church School Teachers!
Posted:
Jun 12 2020 - 3:46pm
As a roller-coaster of a church year winds to an end, I, and the Children and Youth Deepening Ministry Team are filled with gratitude for our church school teachers; for their creativity, tenderness, perseverance-amidst-pandemic, and for all the myriad ways they contribute to the village that helps raise our United Parish children and youth. We have put together a special surprise for our teachers in this week's worship service to express our wholehearted thanks, so tune in on Sunday to feel the love! – Amy Norton, Associate Pastor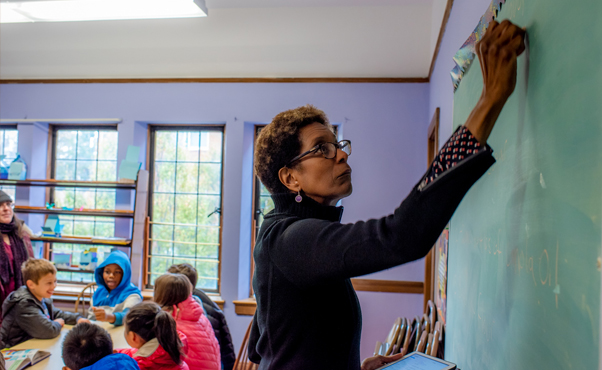 Holy Week and Easter Resources for Kids and Families
Posted:
Apr 6 2020 - 2:41pm
Due to stay home orders in effect at this time, we are saving our community Easter frolicking for later. Please check out these resources for other ways to create Easter hunts in and around your home and to learn more about the biblical events of Holy Week and Easter.
Holy Week Lessons:
This resource (also Discipleship) from the UMC has lessons for each day of Holy Week in preparation for an egg hunt at the end that reviews the story of Easter. It is geared for younger children.
This video tells the story of Holy Week in a narrated animation appropriate for older children.
Easter Resources:
We have collected coloring pages and games in a shared for younger children. Please contact cydeepening@upbrookline.org for access to that folder.
These are directions for creating a simple set of "resurrection eggs" that tell the Easter story. These are geared for younger children but could be done in mixed age families as well.

This video tells the story of the crucifixion and the resurrection   

Easter Egg Hunt Ideas:

The Found Object Color Hunt is a not so Easter-related hunt that could also be fun for all ages and doesn't require any preparation.
Here is a scavenger hunt that we used for the older children during an indoor Easter Egg Hunt at church. It can be used with any readers.
And this is a scavenger hunt in which hunters identify items in bible verses and then send in a picture or drawing of those items.
We would also like to encourage families to post pictures of their hunts or their families celebrating Easter.  
If you are in Realm on a computer you should select Community, then Communications, then Chat. You can then add a message and/or a photo to the stream that all United Parish Realm users will see.
If you are on the Realm Connect app, you select News and then can either select post or photo to add a message to your selected group. To share with the whole community you would choose The United Parish in Brookline.
Community Read-Aloud Videos
Posted:
Apr 1 2020 - 12:57pm
Our United Parish Community has organized a Google folder of videos of United Parish friends reading books and Bible stories to enjoy in your homes. Please contact Katy at cydeepening@upbrookline.org for access to the link. Please use these as a way to stay connected and feel nurtured by others in our community. Please do not post these publicly as they are created for private sharing. If you would like access to the folder to add your own read-aloud video, please contact Amy at amy@upbrookline.org or Katy at cydeepening@upbrookline.org. If you are unable to access the folder because you do not have a Google account, please let the Church Office know (office@upbrookline.org) and we can look for alternative ways to share them with you.