The United Parish Nursery is open on Sunday from 9:15 a.m. to 12:15 p.m., September through June and for special services throughout the year.  Children through Kindergarten age are welcome.  (The nursery is open in July and August according to the summer worship and bible study schedule.)
Where is the UP Nursery?
Our nursery is located on the second floor, in Room 203.  Our nursery caregivers include paid staff and volunteers.  We occasionally ask parents to assist in the nursery.  Please let the nursery staff know if you are interested in volunteering.
What should I bring?
Please bring a labeled bag which includes a pacifier, two diapers, a change of clothes, and all personal items your child may need such as wipes, ointment, bottles, or comfort items.  (If you include snacks, remember allergies of others may prevent staff from serving your child).
Latest Nursery News
Urgent - Nursery Staff Needed
Posted:
Oct 26 2017 - 11:53am
Interested in helping to staff the nursery, or know someone who would be? Our nursery is currently short-staffed and we need more workers to contribute to this vital ministry. Nursery workers are paid hourly, rotate weekly, and staff the nursery 9am-12:30pm on Sunday mornings. If you, or someone you know, are interested, please contact Amy Norton at amy@upbrookline.org.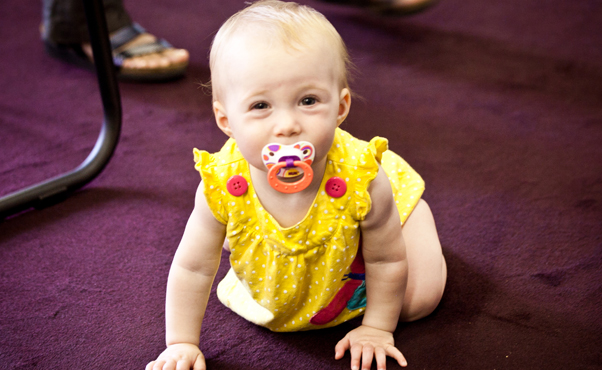 You can still register for Church School and Music Groups
Posted:
Aug 16 2016 - 6:50pm
If you would like to register for a music group, come to a rehearsal @ 9:00am on Sunday mornings and the forms and permission slips will be available.  If you would like to register for church school, come to the 2nd floor on Sundays @ 9:45am and ask any teacher for forms.
If you are not a part of the United Parish family, you and your children and youth are welcome!!!  If you would like to become involved in church school or any of the music groups, contact Alisa Joyce, who coordinates the Christian Education programs, or Susan DeSelms, Minister of Music.
Read more HERE about the educational offerings for children and HERE for youth.
Look HERE to learn more about the different children and youth music opportunities.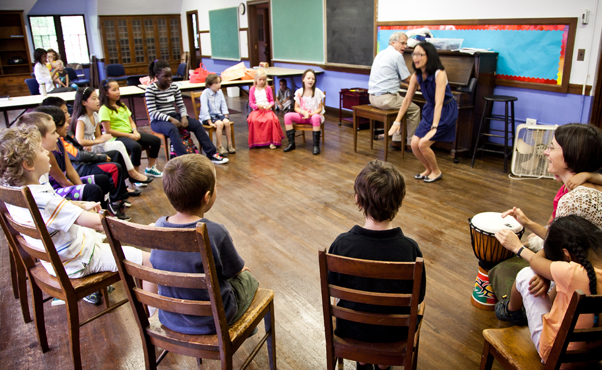 United Parish Nursery Upgrades
Posted:
Feb 17 2016 - 3:53pm
Over the past few months, the United Parish Nursery Staff has enthusiastically collaborated with parents to orchestrate overdue changes in the structure and organization of our childcare ministry.
To jump-start our transformation, we began by reaching out to the broader United Parish community in early January to ask for toy donations. Katie Hodgkins, our new Lead Nursery Worker, and Jessica Cho, one of our dedicated adult caretakers, then spent two days sorting through bags of generous donations alongside existing toys, discarding the old while thoroughly cleaning, decluttering, and categorizing the new. In hopes of better utilizing our shared space, Katie has also worked to revitalize a mutually beneficial relationship with child development expert Cecilia Matson, who runs the daycare Galoop out of our nursery on weekdays.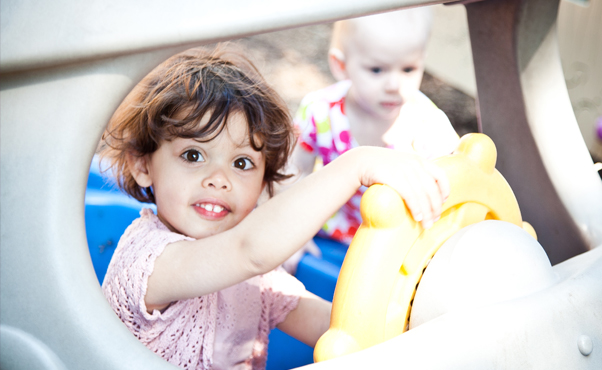 In conjunction with our physical reorganization, we have additionally implemented a curriculum created by Lil' Sprouts to better structure our Sunday morning timeframe. Each month, we focus our program on a biblical theme: we highlighted the concept of growth in January while our current February activities concentrate on love. To foster creativity, we begin our programmed nursery service with an art craft that represents the Christian lessons imbued within the week's theme. To promote messages of love, growth, and God, we then guide our children through a more energetic activity to develop their sensory and gross motor skills. After washing hands for snack time, the children listen to a short bible story and help to recite a prayer. To encourage engaged minds, each child has an opportunity to speak during snack about knowledge they gained during the past week or fun experiences they yearn to share. When the children finish eating, they explore all the nursery has to offer during free play, and after singing the clean up song together, we culminate our nursery session with circle time that can include songs, musical instruments, dance, stories, and games.
The nursery staff has been working diligently to adapt and progress in order to meet the growing needs and desires of the parents and children we serve. Our prevailing projects include creating a music playlist, hiring an additional adult worker, and implementing a volunteer system with our youth to encourage intergenerational relationships. We welcome all members of the United Parish community to stop by our space on the second floor – room 203 – to see the changes we have made, read our new parent handbook and staff member bios, and get to know the team that cares for the smallest members of our congregation.
The nursery staff welcomes collaborative engagement with the United Parish community at large. Please do not hesitate to reach out to Katie Hodgkins at katie@upbrookline.org with any questions, concerns, ideas or feedback.