Journey to Adulthood (8th & 9th Grade)
The Journey to Adulthood (J2A) class helps young people continue their spiritual journey by teaching students independent thinking and how to formulate and answer questions about God and their faith. J2A emphasizes the development of seven skills: listening, assertion, negotiation, research, information management, partnership, and leadership. During the second year of this program, students complete a confirmation curriculum that teaches what it means to become a member of this church and the church universal. In the spring, students may choose to join the United Parish in a special confirmation service. J2A culminates with a special week-long pilgrimage where students explore their spirituality in a destination that they choose together.
Upcoming Journey to Adulthood (8th and 9th Grade) Events
Latest Journey to Adulthood (8th and 9th Grade) News
Saturday Vacation Bible School
Posted:
Jan 18 2018 - 6:35pm
Save the Date: Saturday Children and Youth Vacation Bible School 2018
United Parish would like to announce a Children and Youth Vacation Bible School on Saturday, March 10 from 11am–1pm for all children and youth ages 4-18. The one-day VBS will include fun and energizing music, a short bible lesson, and a Bible verse related craft and science experiment. Participants will be grouped by age and each child/youth is encouraged to invite a friend, neighbor, classmate, etc. Snacks will be provided. Volunteers are welcome! Registration information will be coming soon. For additional information, please contact Chanin at [email protected].
Call for Church School Teachers
Posted:
Jun 30 2017 - 10:26am
Are you passionate about sharing Good News? Do you want to both teach and learn about the Bible? We have something for you!
Our Church School is seeking engaging people to help lead our children and youth classes for our 2017-2018 year. Our Church School teachers work together on a teaching team and volunteer 1 hour of their time 2 Sundays a month. If you are interested in becoming a teacher or want to learn more about teaching, please contact [email protected]/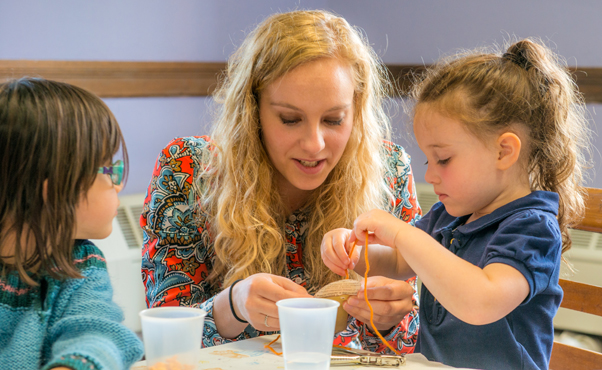 MARCH
Posted:
Feb 1 2017 - 9:54am
On their Winter Retreat last weekend, our Youth Choir and Carolers began the creative task of staging portions of "March," their dramatic presentation examining a history of oppression, from biblical and American slavery, to the Civil Rights and Black Lives Matter movements.
As the presentation will center around acts of Godly protest, one of the first tasks the children accomplished was the making of their own protest signs, pictured below. What poignant messages come from the minds of our little ones!
They also practiced, and created their own words for protest songs from the Civil Rights Movement, tying the thread of oppression through the millennia in language we can all understand.
On Sunday, February 12, the children and youth choirs and church schoolers will offer this dramatization in worship @ 11am in the Sanctuary. Come watch and experience their creative understanding of our history, unfolding in scripture, song, and story.
Special thanks to Merle P., David R., and Deb W., without whom none of this would be possible!
Read the Pastor's Blog HERE for a further description of the event.