At United Parish in Brookline we love any excuse for two things: a chance to get together and a chance to eat!
Coffee & Conversation
Each Sunday before and after worship, the church comes alive with the smell of coffee, the sound of conversation, and goodies brought by members and friends. Connect with long-time friends, engage with visitors or find a quiet corner to catch up on the news. All are welcome!
Dinners for Eight
Twice a year, the Gathering Ministry Team hosts dinners (and cookouts!) for about eight in nearby homes and at the United Parish building. These gatherings offer good food and good conversation in a small group setting. Sign up when the next Dinner for Eight is announced. Everyone is welcome!
Picnics
Potluck picnics allow us to make closer connections amid the smell of a charcoal grill, the sound of laughter and the taste of potato salad, hot dogs, homemade dishes and fresh baked cookies!  Picnics take place next to the church building in our own Memorial Park. There we share stories, welcome visitors and sit around picnic tables while children jump and play on our playground equipment.
Potlucks
Throughout the year, we gather for shared meals and time to connect and enjoy each other's company. Potlucks are a great way to get to know someone you haven't met before, and catch up with old friends too. 
Upcoming Let's Eat! Events
Latest Let's Eat! News
Teacher Appreciation Breakfast
Posted:
Jun 1 2018 - 5:26pm
On Sunday, June 10 there will be a breakfast honoring all of the church school teachers at 9:45am in Memorial Park (weather permitting; rain location is Parlor). All church school students, parents and teachers are invited. This is the last time church school will meet until September. For more information, contact cydeepening@upbrookline.org.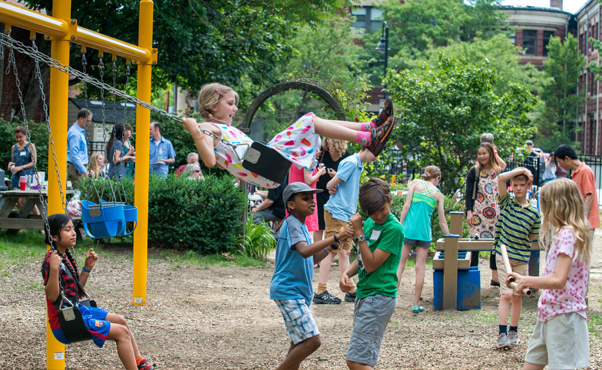 All Parish Meeting and Potluck
Posted:
May 21 2018 - 3:26pm
Join us after worship on Sunday, June 10 in Willett Hall for our all-parish meeting and potluck lunch.
Come have lunch and participate in the governance of our church. We have a number of items to address and information to share. Feel free to ask questions before the meeting. Contact Ben at moderator@upbrookline.org.
For the lunch, we will provide pulled pork, slider buns, coleslaw and drinks. Last names A-O are encouraged to bring side dishes, and P-Z are encouraged to bring desserts. But the most important thing to bring is yourself! Contact gathering@upbrookline.org.
Consecration Sunday Luncheon
Posted:
Apr 26 2018 - 3:26pm
After worship on Sunday, May 20, we will gather in Willett Hall for a Celebratory Luncheon, a catered meal hosted by our Stewardship Ministry Team. We welcome members, friends, and guests of United Parish to join in this special occasion. Because of the nature of this meal, we kindly ask that you RSVP. You can turn in the RSVP form found in your Stewardship packet or in the Marion Street Lobby to the Church Office, or call the Church Office (617-277-6860), or click the link below. We hope you are able to be here for this special day, and we especially welcome any guests you bring with you! Please RSVP by Wednesday, May 9. Contact stewardship@upbrookline.org for more information.