Each year, the United Parish Stretching into Justice Ministry Team chooses a theme to expand our shared learning and understanding of a specific important social issue and how it affects our lives as Christians; to focus and unify our congregation and call us into new service projects; and to engage our congregation with new people and service organizations. Currently the Team is developing a church-wide campaign to help end Mass Incarceration.
Upcoming End Mass Incarceration Events
Latest End Mass Incarceration News
United Parish Christmas Gift Drive
Posted:
Nov 29 2017 - 10:50am
Following up on our very successful toy drive last year, United Parish will again collect Christmas presents for children of incarcerated parents. You are invited to bring an unwrapped present or presents of your choosing for a boy or girl ages 6-15 and put them in the big decorated box at Coffee Hour on December 3 or 10. The United Parish End Mass Incarceration group will deliver the presents to Remember Those in Captivity Ministries, a group comprised of English and Spanish-speaking families. Your generosity will mean a lot to those who often feel forgotten. Thank you and Merry Christmas! For further information, contact [email protected].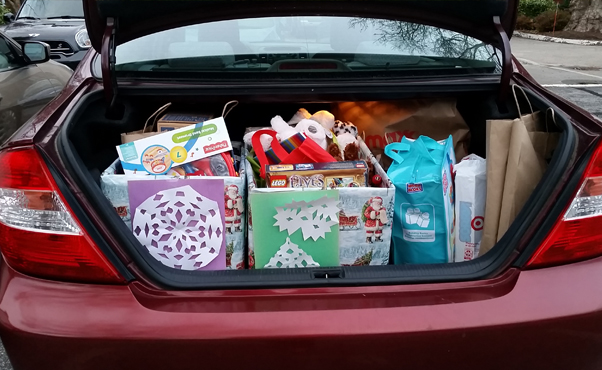 End Mass Incarceration Update November 2017
Posted:
Nov 17 2017 - 11:42am
HALLELUJAH! The Greater Boston Interfaith Organization (G.B.I.O.) State House rally on Monday November 13 led into a resounding vote for comprehensive criminal justice reform late Tuesday evening. We have reached a new turning point in this social justice effort, dating back before the June 2015 United Parish All-Parish meeting vote to oppose mass incarceration.
Nearly 200 people – including United Parish representatives -- attended the Greater Boston Interfaith Organization's rally that began with the group singing "Amazing Grace" and ended with a spirited rendition of "Nobody's Going to Turn Me Around." Islamic, Jewish and Christian religious leaders addressed the crowd, joined by three State Representatives and others. The United Parish (not a G.B.I.O. member) was recognized in the introductions, and we held the United Parish "End Mass Incarceration" banner outside the State House to welcome people arriving for the rally.
Meanwhile, inside the House chamber, State Reps. quickly voted unanimously for the "Council of State Governments (CSG) bill" filed by Governor Baker that takes more limited but helpful steps forward. Then attention turned to the broader reform bill on the floor, that advocates sought to strengthen with amendments filed in advance by supportive State Reps. (212 total amendments). The debate bogged down at times on Monday and Tuesday, but after 9:00 pm on Tuesday the House of Representatives passed the bill by a 144 - 9 vote.
What's next? The state Senate had voted for an even more comprehensive bill on October 26 (27 – 10 vote). A Conference Committee will now be appointed to put together a final text, which must then return to both the Senate and House. Assuming a final favorable vote, the enacted bill goes to Governor Baker for his signature. Reform advocates will soon regroup to discuss how to approach this stage of the process. More information about the content of the bills will be forthcoming after the text of the House bill is publicly available.
Citizen input was crucial. Everyone agrees on this! Reform would not have happened without sustained citizen input on the issues plus all of the calls, visits, and emails to our elected representative together with the many rallies, such as the large Jobs Not Jails rally on November 1 and other Jobs Not Jails rallies dating back to 2015 that United Parish joined.
Thanks to the United Parish congregation for its support for social justice. And we need to organize thank you notes to our legislators who worked hard for reform.
State of Immigrant Rights in Massachusetts
Posted:
Oct 20 2017 - 9:52am
All are welcome to this panel discussion on the State of Immigrant Rights in Massachusetts sponsored by Brookline Supporting Immigrants and United Parish's End Mass Incarceration group. The evening will include: (1) A ten minute fly-over review of the history of immigration policy in the U.S. trying to give some handles to grasp why immigration policy should be understood as one cog of the systematic racism machine. (2) An hour or so of presentation and Q&A with folks from Centro Presente focusing on threats to DACA and TPS (as well as these program's similarities and differences). This presentation will include a brief documentary Centro Presente has created about folks in Boston who have TPS (Temporary Protected Status) and why they have it. (3) An action/relationship building activity where attendees can write letters together to their representatives expressing their concern about these issues. Contact [email protected] for more information.
Thursday, October 26 7:00-9:00pm at United Parish (Sanctuary)