In 2014, members of United Parish began meeting and discussing how this church can work together to raise awareness of environmental issues in our community and in our world.
Since then, they have hosted various workshops and informational meetings, including a recent movie, Merchants of Doubt, with excellent discussion afterwards. They have participated in the Climate March in NYC and other key Brookline climate events, hosting the final event for Brookline Climate Week with Michael Dukakis.  In addition, GreenUP is inviting all to participate in the global Break Free from Fossil Fuels" initiative organized by 350.org in support of a just worldwide transition to renewable energy and in peaceful resistance to the international fossil fuel industry. 
Inhouse, they have partnered with the Building and Grounds Maintenance Ministry Team to change all lighting to LED, and is working with staff and members to "green-up" Coffee Hour by decreasing the use of paper products.
Mission Statement:
GreenUP of United Parish in Brookline is committed to reducing the carbon footprint of United Parish and fostering its stewardship of God's world. As caring and faithful Christians, we wish to reduce our negative impact on and improve our harmony with God's creation. We also wish to empower and educate the United Parish congregation, Brookline/Boston community, and beyond to reduce their own impact on the environment. We strive to reach these goals through outreach, education, service, and activism.
Latest GreenUP News
Book Talk on Climate Change with Author Jim Antal
Posted:
Apr 26 2018 - 2:02pm
UCC denominational and climate leader, Jim Antal, will discuss his new book, Climate Church, Climate World. Commenting on the book, Desmond Tutu says, "This book will inspire both the courage and conviction people of faith need to provide the leadership necessary to realise [sic] God's dream of a just world in which humanity is reconciled to all of creation." Climate scientist James Hansen says, "Jim Antal is among the most knowledgeable and passionate advocates of Creation Care and he captures the complete story in Climate Church, Climate World." Theologian Walter Brueggemann says, "This is the book for which we have been waiting concerning the climate crisis!"
Join us for a book talk and reception on Wednesday, May 16 from 7:30-9pm in the Parlor. Autographed copies of the book will be available for purchase for $25 (cash or check).
Learn more about Jim Antal. For questions, contact greenup@upbrookline.org.
Order your copy of Jim Antal's book at climatechurch.org.
Check out this article about Jim and his new book from the Massachusetts Conference of the UCC here.
(For those visiting United Parish for the first time, the entrance to the church is at 15 Marion Street. The Parlor is up the stairs to the main level and straight down the hall on the left. A reminder that there is no parking available in the church parking lot on Harvard Street. Metered street parking is available on Harvard Street and Beacon Street, and free parking is available on residential side streets for up to 2 hours.)
Climate Week Film Screening
Posted:
Mar 26 2018 - 10:03am
United Parish's GreenUP Ministry Team and Climate Action Brookline have once again teamed up to present a movie night featuring the film Tidewater. All are invited on Friday, April 13 from 7-8:30pm in Willett Hall for the film and a discussion with Rebecca Herst, Director of Sustainable Solutions Lab at UMass Boston.
About the evening's program: The Hampton Roads area of Virginia is vulnerable to sea level rise, just like greater Boston. The region experiences regular instances of "sunny day flooding" putting homes, hospitals, roads and the electric grid at risk of permanent flooding. The film demonstrates that a community wide problem solving approach involving citizens, local businesses and governments is the only way to ensure the continued prosperity of a region. Because the area is home to the highest concentration of naval bases in the country, nothing less than the strength of our national security is at stake. In follow-up discussion, hear about how Boston is planning to deal with its own sea level rise.
Learn more about the film Tidewater and watch the trailer here.
Learn more about Climate Week brought to you by Climate Action Brookline.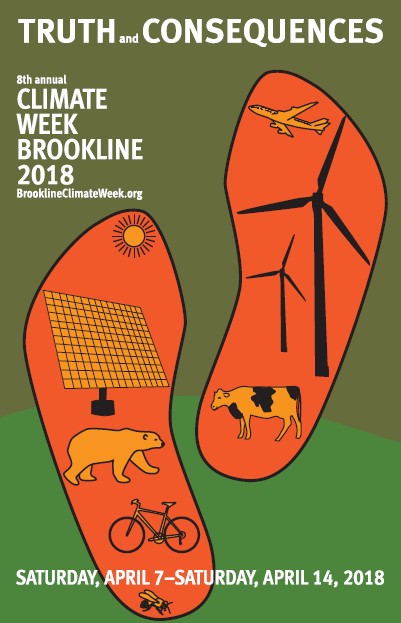 GreenUP Upcoming Events
Posted:
Mar 6 2018 - 2:30pm
Mothers Out Front, a local organization that is mobilizing for a livable climate and powering up for our children's future, is holding the following events in Brookline this spring:
Saturday, April 7, 1:45-3:15pm, Youth in Action, our high school students are making a positive difference in the fight for a livable climate. Ideal for high school and middle school students and their families. Pierce School Auditorium, 50 School St. Brookline, MA ma.mothersoutfront.org/brk_youth_in_action
Sunday, April 8, 12-3pm, "Green" House Fest, tour of homes showing solar panels, heat pumps, induction stoves (and cooking parties), electric cars with home chargers, on-demand and electric water heaters, rain water saving tanks, home energy monitors and more. greenhousefest.org for locations and RSVP. On Facebook.