Join Us for the Simply Sacred Summer!
Responding to requests for more opportunities to simply recharge and connect, both virtually and in person, this summer United Parish will be offering a variety of small group opportunities for adults to feed your body, mind and spirit. Some of us are ready to venture outdoors for some socially-distant small group conversation and shared spiritual practices in nature; others will prefer to engage in discussion of a book or podcast from our homes or patios via Zoom or just joining by calling in by your good ol' cell phone.
The first round of July Simply Sacred Summer events are summarized below and we will also keep them on the calendar at upbrookline.org. These intimate sharing and learning gatherings will offer the opportunity to get to know others in a small group setting, to dive deeper into our Christian faith together, and to exchange hopes, concerns and support strategies for remaining resilient and connected through the summer and beyond!
We welcome your ideas for spiritual practices/programs that could be scheduled later in July or in August.  If you would be excited about a shared facilitating experience, please contact Deb H. or Adam S. at adultdeepening@upbrookline.org.
UPCOMING EVENTS
SACRED SUMMER STROLLS
Join us for a Simply Sacred Summer Stroll: 
UPCOMING STROLLS
Sunday, August 16 from 4:30-6pm at Larz Anderson Park in Brookline. We will meet near the Cupola next to the pond. The park is bounded by Goddard Ave and Newton Street and the parking on the site is accessed on the Goddard Street side. The pond is on the side of the park near the intersection of Goddard & Newton. Participants are welcome to bring a picnic dinner if they want to stay for a socially distant outdoor dinner when the program is over at 6pm, but may not share food. Please RSVP to Deb H. at adultdeepening@upbrookline.org.
PREVIOUS STROLLS
Sunday, August 9 at 4pm at the Arnold Arboretum, meet at the main entrance at 125 Arborway, Jamaica Plain.
Saturday, August 1, at 10am at Hall's Pond Sanctuary in Amory Woods, at Amory & Freeman Streets in Brookline. 
Saturday, July 25 on the Riverway. We enjoyed the beauty of God's creation, the art installation and expressed our own creativity through art and haikus.
Saturday, July 18 at 10am at Griggs Park. We took time reflecting and doing lectio divina on the Psalm and Gospel texts for the day.
Saturday, July 11 at 10:00 AM at the Boston College labyrinth. Holly V., who teaches at Boston College, joined us as we took turns walking the labyrinth and enjoying some time in small groups – while keeping our distance. 
Saturday, July 4 at 10 AM at Forest Hills Cemetery in Jamaica Plain. Since there are many abolitionists buried at Forest Hills, we read Frederick Douglass' famous Independence Day speech: "What to the American Slave is Your 4th of July?" 
MORNING MIDWEEK MEDITATION
Wednesdays in July and August from 8:00-8:30 AM, via Zoom, starting July 8
If you are looking for a calming, caring congregational connection in the middle of your chaotic week, join Adam Sutton on Wednesday mornings in July and August via Zoom. Adam will hold space for some simple prayer sharing and will offer a relaxing and centering guided meditation that will leave you relaxed and renewed, ready to move into the rest of your week.  
See the Zoom info in your weekly all-parish email or contact adultdeepening@upbrookline.org by the night before and we will send you the Zoom information to connect by phone or online. 
SUNDAY ADULT BIBLE STUDY
During July, you can join Bible Study on Sundays at 10:30am. Contact biblestudy@upbrookline.org for the Zoom details. BIBLE STUDY WILL NOT MEET IN AUGUST AND WILL RESUME IN SEPTEMBER.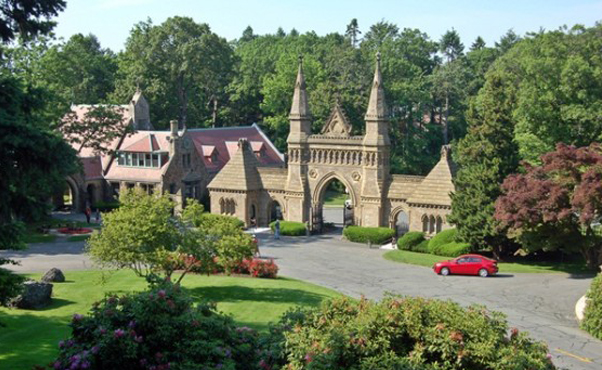 Image credit: Forest Hills Cemetery, newengland.com