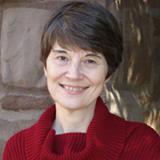 The friendly (southern) voice you hear on the other end of the line when you call the church during the week is Marla Walters, our Communications and Office Manager. Marla brings wonderful energy, enthusiasm, and a great deal of skill and experience to the multifaceted work going on each week in the office.
Marla taught private piano lessons for 30 years before serving as a minister of the Brookline Church of Christ (located just around the corner on Washington Street).  She was involved in all aspects of congregational life, including planning and leading music and worship and teaching the children's class. Her husband, James, (of 42 years) teaches New Testament and Christian Origins courses at the Boston University School of Theology.  As she likes to say, they now "work in Boston and live in Vermont," enjoying weekends in their second home.  If asked, she will always tell you about her 4 grandchildren.
Along with her ministerial experience, she also brings strong skills in organizing and managing her own business and small offices in academic and non-profit settings to our life at United Parish. We appreciate her warm, generous spirit and great energy!