Latest Worship Service News
Upcoming Worship in June
Posted:
Jun 1 2018 - 5:18pm
You are invited to join us for these upcoming worship services and events.
• June 3 – Our Confirmation class leads us in worship, sharing their statements of faith and covenant
• June 10 – Amy and Kent will deliver a "state of the ministry" sermon, with worship full of Sacred Harp music, followed by our annual All-Parish Spring Meeting and Potluck in Willett Hall. Come for as much as you can and hear about the good work of God alive in our midst. Church School Teacher Appreciation breakfast in Memorial Park at 9:45am.
• June 17 – Interfaith worship with friends from the Islamic Society of Boston in Wayland. They will join us in leading worship. Buildings and Grounds service day that afternoon.
• June 24 – Summer Worship begins at 10am in Willett Hall and goes through September 2. We will hear from members each week on the theme of "Image of God: how do you see God in the world around you?"
Where is the Love? Expressions of justice and faith Children and Youth Musical Presentation in Worship
Posted:
May 3 2018 - 3:48pm
Come experience the connections between our secular and spiritual worlds in this unique offering by the children and youth of United Parish on Sunday, May 20 during worship at 11am. Through contemporary songs from a wide range of musical styles, stories from today's news headlines, and modern images, our young people will share a heartfelt commentary about self-expression and the social justice issues they care about most.
There is something for everyone in this cabaret-style musical program that includes 60's rock, rap, R&B, musical theater, reggae, country, folk, gospel, and big band jazz to explore themes of gun violence, gender identity, racial justice, animal rights and more.
Come be inspired by the power of love to change the world.
Contact Susan DeSelms at susan@upbrookline.org for more information.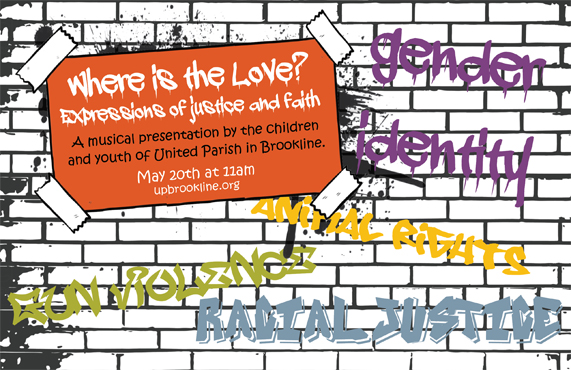 Help with Arts and Crafts Project for Worship
Posted:
Mar 21 2018 - 5:26pm
We are looking for a few good hands to help us cut, tie and attach ribbons to create beautiful ribbon poles for our upcoming Easter service. We would love to have anyone willing to join us for our Ribbon Party in the Parlor on Monday, March 26 from 2:30-5:00pm. Contact the Church Office at office@upbrookline.org.