Upcoming Worship Service Events
Latest Worship Service News
Lenten Dinner Church 2021
Posted:
Feb 19 2021 - 12:35pm
During Lent, we invite you to join us on Tuesday evenings from February 23 through March 23 from 7-7:45pm for Lenten midweek worship on Zoom. Prepare your own meal at home and sit down with us for a worship service of prayer, contemplation and song. Dinner church is a postmodern return to an ancient worship model, just like what the early Christians did in their own homes. Zoom info will be in your weekly newsletter. Contact Seminarian Katharine Henry at seminarian@upbrookline.org or Associate Pastor Amy Norton at amy@upbrookline.org.
Winter Prayer Hike - February 20
Posted:
Feb 16 2021 - 2:23pm
The next prayer hike will be this Saturday, February 20, from 2-4pm. We will explore the Hammond Pond Reservation/Webster Woods in Newton: https://goo.gl/maps/j2BQkFjkDfKmXd6T9.
We will meet at the parking lot near the intersection of Boylston St. (Route 9) and Hammond Pond Parkway, near the Chestnut Hill mall (see map).
Bring your mask, water, journal/bible/pen if you desire, and hopefully a friend. We will be socially distanced and masked. Children and youth should be accompanied by parents or guardians.
Here is some info about the park:
https://www.mass.gov/locations/hammond-pond-reservation
https://newtonconservators.org/property/webster-woods/
Please RSVP to Katharine at seminarian@upbrookline.org by Saturday at 12pm. We hope you will come to commune with one another and with God in creation.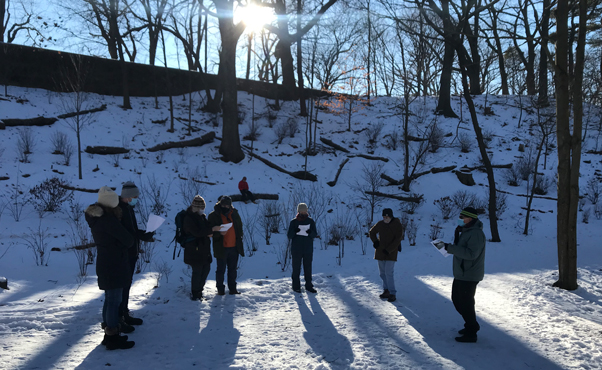 Easter Flowers 2021
Posted:
Feb 16 2021 - 1:36pm
Each year, we decorate the Sanctuary with flowers donated by individuals and families honoring or in remembrance of a family member or friend. Even though we cannot gather in person this year, we are continuing this beloved tradition. As we come together to worship virtually, we offer the opportunity for you to purchase our Easter lilies, daffodils, tulips, hydrangeas and hyacinths to brighten the lives of our friends and families and spread the good news of Easter. We hope you will participate in an opportunity to bring our Easter joy to a neighbor, a home-bound parishioner, and into your own home!
If you would like to contribute toward the flowers and have the names of your loved ones listed in the bulletin on Easter Sunday, there is an online form you can fill out here or you can email office@upbrookline.org.
Please donate $10 per name; if writing a check, put "Easter flowers" on the memo line. You can also donate through PayPal, or by credit/debit upon pickup.
Easter flowers will be available for pickup on Easter Sunday, April 4 from 1-3pm on the front lawn. (If you can't make that time, please contact the Church Office to schedule a pick-up time.)
Deadline to submit names for the bulletin is Sunday, March 28 (Palm Sunday).