Advent 1: Mary Had a Baby
By Kent French
November 23, 2021 - 1:54pm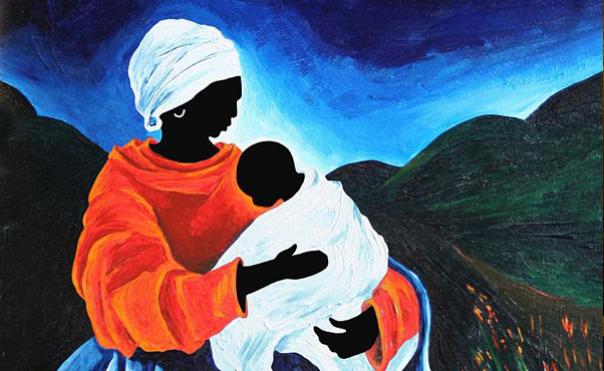 As we begin the new liturgical year, we celebrate Advent alongside the launching of our Negro Spirituals Royalties Project (more info here). We will center both our Sunday morning and Tuesday midweek worship around four spirituals:
1. Mary Had a Baby 
2. Rise Up, Shepherd, and Follow
3. Children, Go Where I Send Thee
4. Go, Tell It on the Mountain
(music video links embedded)
For more information and study, please check out this Advent devotional.
This Sunday, Kate Baker-Carr, an ordained clergy member of our congregation, will lead us in reflecting on the first spiritual and the story of Mary receiving word of her pregnancy (Luke 1:39-56).
Kate writes:
Greetings members and friends of United Parish.
The Negro Spiritual boldly proclaims: Mary Had a Baby, Oh Lord!
And what a time and place it was that the baby Jesus was born. Of that time and place, at Christmas in 1973, Madeleine L'Engle wrote The Risk of Birth: 
This is no time for a child to be born,
With the earth betrayed by war & hate
And a comet slashing the sky to warn
That time runs out & the sun burns late.
That was no time for a child to be born,
In a land in the crushing grip of Rome;
Honour & truth were trampled by scorn —
Yet here did the Saviour make his home.
When is the time for love to be born?
The inn is full on the planet earth,
And by a comet the sky is torn —
Yet Love still takes the risk of birth.
Upon receipt of the Nobel Peace Prize, in 1986, Elie Wiesel stated: "There is no good reason to bring a child into this world, but you must have children to give the world a new innocence, a new reason to aspire towards innocence."
To bear a child, to welcome life into the world, can be a statement of faith, of hope, of courage and of love. Children are at once gifts and blessings and unfolding mysteries. Each in their own way is a miracle.
As we begin Advent, a time of expectation and waiting, a season of penance and preparation, let us start by reflecting upon what it has meant at precise moments in history and what it might mean for us today that Mary had a baby, oh Lord!
May your Thanksgiving be blessed; I look forward to worshipping with you in person and online this Sunday as we enter Advent.
Kate Baker-Carr
Advent Study: we also invite you to join our Seminarian Thomas' Advent study, "A Song to Sing" on Tuesday evenings on Zoom (after midweek worship), and on Sundays after worship in the Parlor. See more here.
If you'd like to read or listen to previous sermons, or subscribe to our podcast, please click here.
If you'd like to watch previous worship services, please visit our YouTube page.
Image credit: Madonna and Child Lullaby, (2008) by Patirica Brintle