Advent 3: Children, Go Where I Send Thee
By Kent French
December 9, 2021 - 10:42am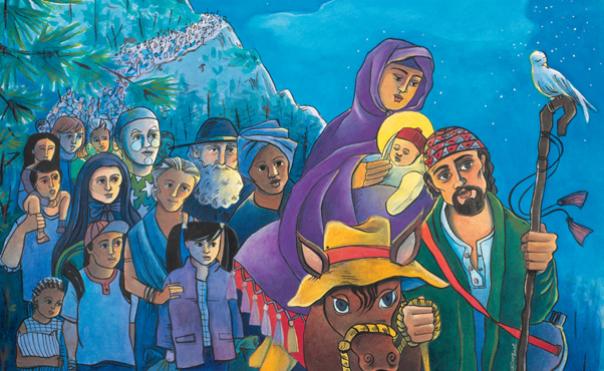 This Sunday, we'll hear the familiar, heartwarming, central core of the Nativity story (Luke 2:1-7) -- a very pregnant Mary and loyal Joseph trekking some 90 miles from Nazareth to Bethlehem to be counted in the Roman census. Google maps says it's about a 33-hour walk. And there, likely exhausted, with no place to stay, she gave birth.
We cozy up to this central story of our faith. We tell it again in charming pageants, stories and songs. But how many of us would have wanted to live it?
This Advent we've been centering our worship around four spirituals, alongside the launching of our Negro Spirituals Royalties Project (more info here and below). As Susan laid out for us in launching this initiative on October 31, we sing Negro spirituals with a sense of joy, celebration, poignancy, resilience, resistance and hope. We also know that many of these songs grew out of intense oppression, injustice and pain.
Children, Go Where I Send Thee is a rousing spiritual that counts off people and events of the Christian faith. You can see the annotated lyrics below. In some ways, it's a teaching song and comes off like a spiritual version of The Twelve Days of Christmas. The words remind us that God is always calling faithful people to go forward, to move into new, challenging, even overwhelming situations. It's often scary, it's almost always stressful and it calls us to wade into the tides of many big things beyond our control. The questions remain: who is sending us and how?
Come this Third Sunday of Advent, when we light candle of Joy and listen again to where and how God is sending us.
In faith,
Kent
Children, Go Where I Send Thee
annotated lyrics, thanks to Eric Alderfer of Fort Washington Collegiate Church in New York City.
There are alternating versions of the spiritual, but these words give you a sense of the richness in them.
Children, go where I send thee,
How shall I send thee?
I'm gonna send thee ten by ten!
TEN for the 10 Commandments
NINE for the 9 who saw the sign
During Advent we remember the many prophets who foretold the Birth of Jesus.
Some versions say "NINE for the 9 all dressed so fine" and that could represent being clothed with the fruit of the Spirit listed in Galatians 5:22-23, a list of 9 including 1) Love; 2) Joy; 3) Peace; 4) Patience; 5) Kindness; 6) Goodness; 7) Faithfulness; 8) Gentleness; and 9) Self-Control.)
EIGHT for the 8 the flood didn't take
1) Noah and his sons 2) Ham, 3) Shem and 4) Japheth. Add their wives and you have a total of 8 humans who survived the Biblical Flood.
SEVEN for the 7 on their way to heaven
This refers to the story found in Luke 20 and Matthew 22 of the woman who had seven husbands who died, and the question was asked of Jesus: "Whose wife will she be in the resurrection?"
SIX for the 6 who couldn't get fixed
This could represent the 6 days of creation. After the Biblical Fall, all of creation was broken and looking for redemption.
FIVE for the 5 who came back alive
There are many people in scripture who came back from the dead. Here are 5 of them: 1) Jairus the synagogue ruler's daughter raised from the dead by Jesus; 2) Eutychus, the boy who fell out the window while long-winded Paul preached in Troas according to Acts 20; 3) the son of the widow of Zarephath who Elijah prayed for in I Kings 17; 4) Lazarus; 5) Jesus.
FOUR for the 4 who stood at the door
This stands for the four Gospel writers — Matthew, Mark, Luke and John.
THREE for the Hebrew children
Shadrach, Meshach and Abednego, survivors of King Nebuchandnezzar's fiery furnace in Babylon, according to the Book of Daniel, chapter 3.
TWO for Paul and Silas
Paul and Silas were early apostles who travelled as missionaries together. (Acts 16)
ONE for the itty bitty baby who was born, born, born in Bethlehem!
Image credit: Holy Family Flight to Egypt from americamagazine.org