Advent I: Festival of the Greens
By Amy Norton
November 30, 2017 - 10:03am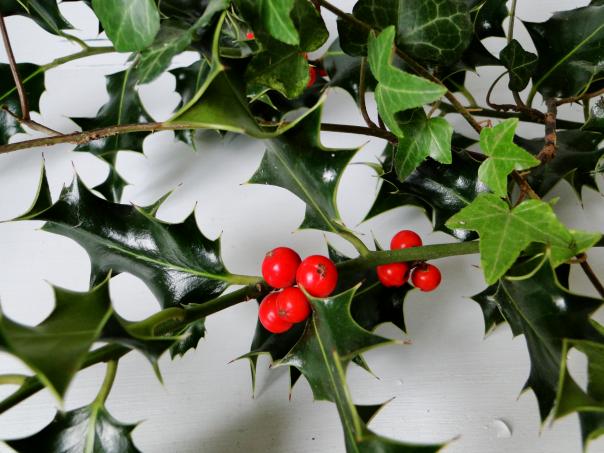 The holly and the ivy, when they are both full grown;
of all the trees that are in the wood, the holly bears the crown!
Oh the rising of the sun, and the running of the deer;
The playing of the merry organ, sweet singing in the choir!
I first heard this song on an old rerun of "Rick Steve's European Christmas," playing in the background while viewers were treated to some b-roll of the British countryside in winter. Suddenly I had a favorite Christmas song...well, alongside O Come, O Come, Emmanuel, O Little Town of Bethlehem, Let All Mortal Flesh Keep Silence, and all my other favorites....but that one in particular holds a special place in my heart.
I think it's because of how it incorporates this beautiful, timeless nature imagery. Can you just picture two stags bounding across the frosty field; early Celtic and Anglo-Saxon converts to Christianity decorating their homes and places of worship with holly and ivy, carrying some of their cherished traditions into their new faith, gathering to sing songs together to bring light and warmth to the chilly dark days...
One of the things I love about the interplay between culture and religion is how various cultures have made Christianity their own, based on their environment, their traditions, and their heritage. In Mexico, Christmas Eve wouldn't be complete without the Mass of the Rooster, a tradition born with Mexico's colonization by Spain but which contains elements from indigenous celebrations for the god Huitzilopochtli, which included fireworks, plays, food and dancing. In parts of southern India, Christians light their rooftops and the walls of their homes with small clay lamps, just as the Hindus do during the Diwali festival. In parts of Greece, Christmas celebrations include tales of demonic and other supernatural beings, who roam about during the Twelve Days of Christmas- these goblins are supposedly the descendants the Greek god Pan, or Satyrs. In a part of southern Italy called Molise, Christians celebrate Ndocciata, a torchlit festival that predates the Christian and Roman eras, originating with the Samnite tribes, who used torches as a source of light during the strategic tribal shifts that occurred at night.
Here in America, especially in New England, many of our Christmas traditions come from Northern Europe, especially our evergreens. The ancient peoples of the Celtic, Scandinavian, and Germanic worlds incorporated evergreens into their own religious practices, and many of these traditions carried over into Christianity and became mainstream.
This Sunday, we'll be hearing a little more about the ways that evergreens have been incorporated into Christmas during our Festival of the Greens service. We also will get to hear the Chancel Choir performing the Bach Cantata 61, with a string sextet, and hear music that our Youth Choir and Carolers have been working on since the summer! We'll sing, learn, worship, and welcome Advent and the beginning of the Christian year together!
Peace,
Amy