Adventurous faith at the border
By Kent French
January 30, 2020 - 8:45am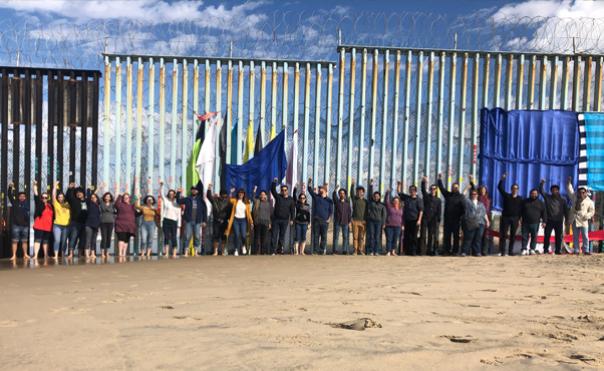 Last Sunday, we talked about discipleship as an adventure in faith. Many thanks to those of you who emailed your post-Sunday thoughts to me about what adventure looks like to you. I am enjoying reading them.
This Sunday, we will welcome an inspiring adventurer in faith and a good friend of United Parish, André de Quadros. As he likes to put it, he is an "admirer" who is "inspired by the vision" of our congregation. Although he may not explicitly think of himself as a Christian disciple, André is in fact, a true disciple of what I would call Divine Love and Justice. Andre practices this in several dynamic ways, through his "democratization of music."
We first learned about André because one of our former staff musicians worked with him in prisons, where they led incarcerated people in creating their own art, poetry and music, collaborating in a truly healing, soul-transforming way. We saw a vivid sampling of this work when he came with one of his recently released prison-students and they led us in a powerful worship service in July 2018. You can read the blog here, and hear excerpts of the worship here and here.
On Sunday, André will come to talk with us about some of his current ministry working with refugees and immigrants at the US-Mexico border as well as his own childhood refugee experience. You can read more about his work with Common Ground Voices here.
Members of his Voices 21c choir will join our Chancel Choir in leading us in worship, with some truly beautiful, soul-inspiring music. We will reflect together on our biblical imperative to welcome the stranger, the outcast, the refugee.
It will be a great Sunday to think more about how our faith, and our commitments to God's values of Love and Justice can lead us in adventurous new directions. I look forward to celebrating it with you.
In faith,
Kent
Please join us after worship for the Ask the Pastor Forum in the Sanctuary. This is an opportunity to share questions and thoughts with Amy and me.
To read or hear previous sermons or to subscribe to our podcast, please click here.
Image credit: Common Ground Voices / La Frontera at the US-Mexico border