By Kent French
June 6, 2019 - 9:50am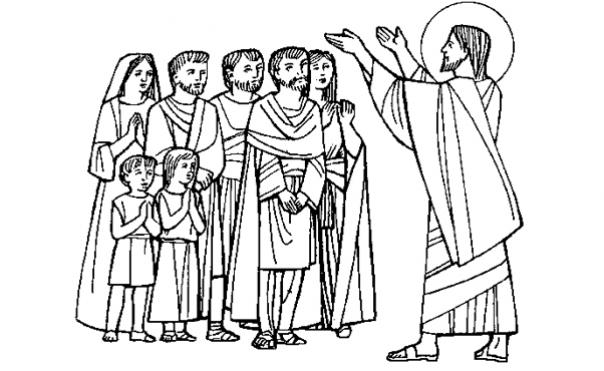 All-Parish Potluck and Spring Meeting this Sunday, after Worship. Come and hear our plans for the year ahead and stay for as long as you can!
Church School Teacher Appreciation Breakfast, 9:45am, Memorial Park (or Parlor if rainy)
This Sunday is the Day of Pentecost, that annual liturgical holiday when we remember the fiery, blustery, confounding and clarifying power of the Holy Spirit coming among the first Christians and helping them understand one another, despite their differences in culture and language (Acts 2:1-21). It's considered the birthday of the Christian church.
We've reflected on this story twice over the past year, most recently when we focused on the Holy Spirit as part of our Lenten Faith Exploration series, on March 31.
This Sunday, we will do something a little different. As we prepare in worship to head into our Spring all-parish meeting, we're going to shift to an earlier part of the story, when Jesus said farewell to his disciples and fantastically ascended into heaven (Acts 1:4-11). Our United Methodist District Superintendent, We Hyun Chang, will be with us to preach and serve communion. He will pick up our "Co-Workers in God's Service" theme and talk about the nameless and ordinary Christians (Methodist and otherwise) who channeled the power of the Holy Spirit and were able to expand the horizon of God's love.
He will also join us at our after-worship meeting and be happy to answer our questions about the future of the United Methodist Church in light of its turmoil over LGBTQIA+ issues. Members of the Brookline Consort chamber choir will join with our Chancel Choir in worship.
This is a culminating, celebratory Sunday, capping the last past nine months of our year together.
Next Sunday, June 16, we will move worship downstairs to Willett Hall and begin worshiping at 10am.
I look forward to seeing you soon!
Upcoming Dates
Saturday, June 15 -- Strawberry Festival, 11am-3pm
Sunday, June 16 -- Summer Worship begins in Willett Hall, 10am
If you'd like to hear last week's sermon or subscribe to our podcast, please click here.
Image credit: Cruz Blanca Franciscans of Seville, Spain