All-Parish Meeting this Sunday
By Kent French
June 10, 2021 - 7:57am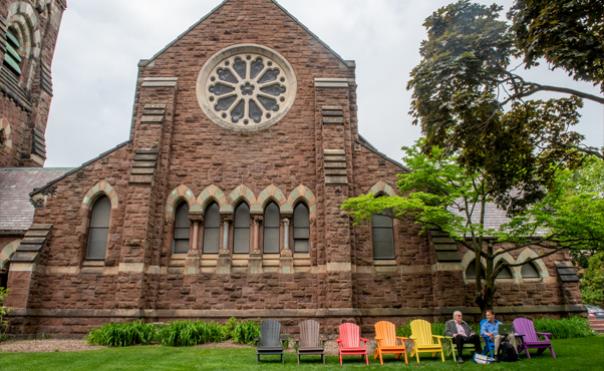 In some churches the annual meeting can be, well, unpleasant and tedious. Hand-wringing over the budget, resistance to new changes, inappropriate, un-business-like conflicts over unacknowledged spiritual hurts. One of my mentors told of how he saw two men grab one another's neckties and nearly come to blows at an annual meeting over some issue on the floor. Exciting, but is this Christian community?
I am grateful to say that we view our bi-annual meetings (November and June) as celebrations, as ways to affirm and anticipate what God is doing in our midst. Yes, we have the same challenges that lots of other churches have about creating workable budgets and putting forth a nominating slate. And we've had them again this year.
But the question is, why do we do this? We do this because it's a way of organizing our life of faith. It's a way of coming together and intentionally looking at our overall shared ministry. It's a way of figuring out how God is working among us. We do it with the tools we have available to us in other parts of our lives: agendas, presentation, discussion, votes, decisions.
We have some exciting things to talk and pray about at this all-parish meeting:
• Reopening our building and what that means for a renewed future
• Joining the Greater Boston Interfaith Organization, and stretching further into justice
• Deepening our relationship with the Brookline Food Pantry and working on food insecurity in our town
• Having a more robust livestreaming platform so that we can worship inside our building AND keep sharing it with the wider world online.
If you don't feel informed enough, please get informed in advance. Check your June 7 email. Our Stretching into Justice team in particular has gone above and beyond providing us with information.
Our staff, Council and ministry teams have adapted amazingly this last year. They have kept us together during this crazy year through worship, meetings, outdoor activities, and Zoom gatherings. That in itself is enough to celebrate.
So please join us on YouTube for worship, in which we will reflect on the apostle Paul's personal greetings to the early Christians in Rome (Romans 16:1-20) and then head over to the all-parish meeting on Zoom. Stay for as long as you can. Pray for as much as you like.
In faith,
Kent
If you'd like to read or listen to previous sermons, or subscribe to our podcast, please click here.
If you'd like to watch previous worship services, please visit our YouTube page.