All-Parish Potluck and Autumn Meeting
By Kent French
November 15, 2018 - 9:49am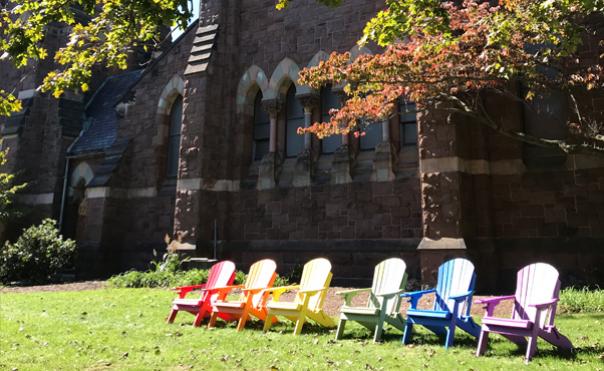 This Sunday, we have our annual autumn all-parish meeting and potluck. I hope you will come for the food and stay as long as you like. Our Gathering Team invites you to bring a favorite family dish to share. If you cannot bring a dish, come anyway.
Now, five years into my pastorate with you, I want to discuss some current trends at United Parish and where I believe they are leading us. If you're new to us, I especially hope you will come to listen in.
Some of you may know of the leadership writer, Ronald Heifetz. One of his key concepts is the importance of knowing the difference between a technical fix and an adaptive challenge. A technical fix is something like needing to replace the boiler or finding a better process for people to join our church and get involved. An adaptive challenge is more of a cultural shift, like thinking of ourselves more as hosts than guests in worship. Sometimes adaptive challenges are driven by technology, like relying more on email communication than phone calls or using smart phones more than land lines.
Over the past few months, I've been reflecting on the ways God appears to be working in our midst and what our congregation's and my priorities need to be for the years ahead. And I've noticed several adaptive challenges going on, which I've shared with staff, Council, Gathering and Human Resources. Now I want to share them with as many of you as possible.
In short, these adaptive challenges are: Moving from
1. perceiving God as primarily transcendent to more immanent; (click here to learn more.)
2. being a private spiritual community to having more of a public witness in the world around us;
which also means moving from being a small, familiar community to more of a program-sized church.
3. being a community of primarily white heterosexual people and their friends to being a fully inclusive congregation;
4. offering acts of charity to building and supporting systems of justice;
5. being recipients to participants to leaders;
which also means moving from
last-minute pulling things together to long-range planning;
relying on a few, talented individual leaders to building teams and cultivating leadership among us;
hearing our individual call to ministry to being equipped to serve others.
These are exciting trends to notice. Some of us may not be comfortable with all of them, while some of us may readily recognize and embrace them. Many of us may be anywhere in the middle. The point is, that it's good to step back and notice these dynamics, so that we can work with them effectively and faithfully.  It's a lot like knowing what the weather is doing, so that you can prepare and respond accordingly.
In worship, we will celebrate Thanksgiving and focus on adaptive challenge #3 above. We will look at both the stories of the Tower of Babel (Genesis 11:1-9) and the Day of Pentecost (Acts 2:1-21) and how God, Jesus Christ and the early church call us to embrace more fully the spirit of being fully diverse and inclusive.
This is all good, exciting stuff. I hope you will come to join the conversation.
Coming Up
Brookline Interfaith Worship, this Sunday, November 18, 3:30pm
at All Saints Episcopal Parish, 1773 Beacon Street, Brookline. Learn more.
Senior Pastor All-Parish Review, due November 20, click here for more info. You are ALL invited to participate.
Annual Thanksgiving Meal, Thursday, November 22, 1pm, click here to get involved or email thanksgiving@upbrookline.org.
Advent Wreath-Making, Sunday, November 25, 9:45am, Chapel. Learn more.
To hear last week's sermon and subscribe to our podcast, click here.