By Kent French
May 20, 2021 - 10:11am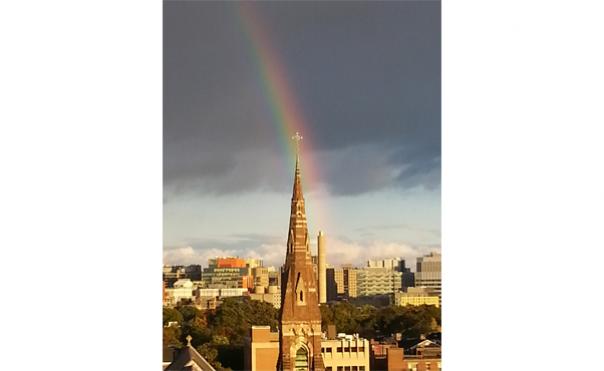 For the past several years, we've held a Consecration Sunday, when we bring forward our paper pledge forms to the communion table and place them in baskets. It has been a moving moment in worship, much like the embodied processional of communion, when we move together as the living, breathing, metaphysical body of Christ. We see the variety of our congregation, all shapes, sizes, colors, ages and abilities coming forward to pledge our time and money to the work of this parish, this corner of God's kin-dom here on Earth.
Consecration means to make holy. And together we take ordinary pieces of paper, representing our hard work, sacrifice and commitment, asking God to make our offerings holy and ensure them for holy purposes in the year ahead. It's a kind of ancient rite.
Of course, this past year changed this beautiful moment as we moved worship online. It has not changed the beauty of our collective sharing. We will celebrate all of this on Sunday.
If you have not made your pledge yet, please click here. Pledging before Sunday helps us tremendously in planning for the year forward.
On Sunday, we will celebrate what it means to be a part of this community, how we've prayed and experienced the Help-Thanks-Wow of our Eastertide theme. Our three Church Council officers (Jennifer, Doug and Kate), Amy and I will reflect on Jesus' exhortation to ask for what we need (Matthew 7:7-11) and the Wow! story of Pentecost (Acts 2:1-21).
AND we will bless our departing seminarian, Katharine, in gratitude for all her service this past year. We will bless her in pre-recorded worship and invite you to join us for the first few minutes of Zoom coffee hour to bless her in real time. Check your Friday and Sunday emails for the link. You can contribute to her departing gift by sending a check with "Katharine's gift" in the memo line to the Church Office or send a donation via PayPal (click here to donate or search office@upbrookline.org on the app), Venmo (search @unitedparishinbrookline), Realm, or our website. (If you use Realm or our website, make a one-time donation to the General Operating Fund, then please send an email to assistanttreasurer@upbrookline.org telling us your recent donation is for Katharine.)

It's a BIG Sunday! We look forward to celebrating with all of you.
In faith,
Kent
If you'd like to read or listen to previous sermons, or subscribe to our podcast, please click here.
If you'd like to watch previous worship services, please visit our YouTube page.
Image credit: Glen Schultzberg