Co-Workers in God's Service: Consecration Sunday
By Kent French
May 16, 2019 - 9:03am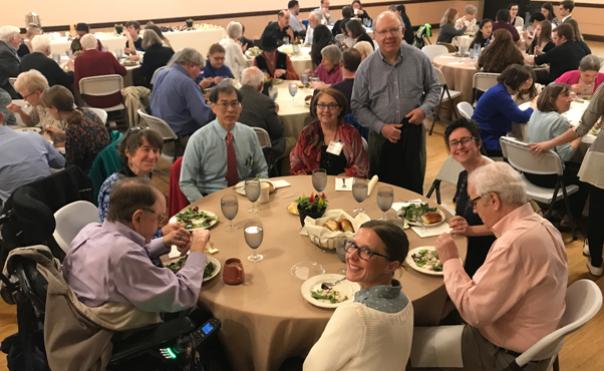 Consecrate means to dedicate something to a holy purpose. We do it when we bless the water for baptism or pray over the bread and juice at communion. We are, in effect, saying that these are ordinary elements and we are now dedicating them to the work of God, that they may work in holy ways and inspire something holy in us.
Similarly, when I offer the Prayer of Dedication over the offering, I often say something akin to what we say at communion, asking the Holy Spirit to bless our gifts, make them holy, fit for helping build the kin-dom of God, here on Earth as it is in Heaven.
This Sunday is our third consecutive Consecration Sunday, when together in worship, we bring forward our financial and service pledges for the year ahead. (Our budget year runs July-June). We bring them forward, in the same way we come forward for communion. It is a holy, collective act.
When we offer our resources in church, we offer them for God-centered purposes. It's not that we always know exactly how to use them in God-centered ways, but we are asking God to help us do that. Sometimes the holy purpose is keeping the light or the heat on, or having enough paper in the copier, or enough people to clean and welcome others. And often, giving money may be a sacrifice. It may mean that you are sacrificing getting something you really want or need to give the money to other, good causes.
And so this Sunday is a beautiful Sunday, a time when we bring forward our gifts and annual pledges to the communion table, the place where we eat holy food together. A time when we re-commit our resources to this holy work among us — the work of helping people transform their souls and re-commit ourselves again and again to helping bring about the kind of just, loving, compassionate world that we think God intended, that Jesus taught and lived.
So, please bring your pledge forms for worship and stay for a celebratory lunch! Our collective ministry thrives when we all participate. Our Stewardship and Budget Ministry Team has been working diligently to lead us in this holy time of dedication again. As always, we are asking for 100% participation in pledging, in order to support the ways that this vibrant and loving community continues growing into the future. 
We will reflect together on our Stewardship theme: Co-Workers in God's Service, looking at Paul's letter to the church at Corinth (1 Corinthians 3:1-9).
We will once again welcome Nadya Mikhaylova to the organ and piano. And our good friends from Convivium Musicum will join our Chancel Choir in leading us in song. We will also offer a farewell blessing for our awesome seminarian, Wilson Hood.
However you choose to give, I hope you will come and take part as together, we ask God to consecrate us.
If you'd like to hear last week's sermon, or subscribe to our sermon podcast, please click here.