Cydney Van Dyke: A Work in Progress
By Kent French
July 29, 2021 - 9:34am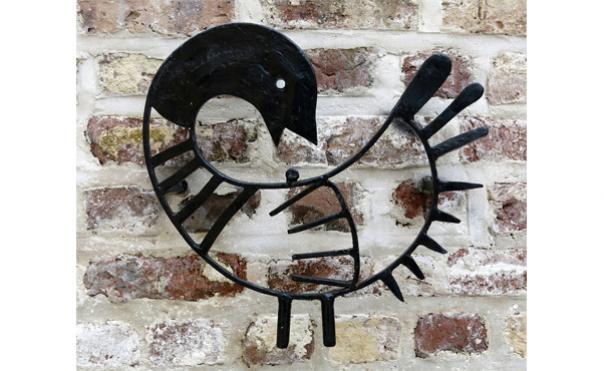 Image credit: "Iron 'sankofa' symbol on a memorial to the enslaved workers who 'helped' build the Unitarian Church in Charleston, SC" by Spencer Means. 
'Sankofa' comes from the languages of Ghana and means: 'it is not taboo to go back and fetch what you forgot.' Learn more here.
One of the great joys in our parish life over the past seven years has been our seminarian program. Since 2014, we have been blessed with divinity school students serving as student pastors among us. They bring fresh ideas, a real desire to learn, a perspective from the theological frontiers of the academy, and their own gifts of music, preaching, organizing, listening, and encouraging. They come to love our congregation. Most of them were not seriously considering ordained pastoral ministry before they came to us, but got hooked while in our midst. We get to watch them grow vocationally in front of us, contribute to their overall education and help launch them into lives of faithful ministry in other places, inspired by what they learned among us. It is one of the ways we help enhance the life of the wider church.
In our summer emphasis on our 50th Anniversary theme of "Rooted in our Past, Reaching into our Future," we have invited our five past seminarians to preach and share about how this place rooted them and also helped them reach, and to hear what's happened in their life and ministry since leaving United Parish. We will begin this Sunday with Cydney Van Dyke, who was with us in 2014-16.
Since leaving United Parish, Cydney served as Associate Pastor at New Goshenhoppen UCC, East Greenville, Pennsylvania, close to where she grew up and now serves as Associate Pastor at First Congregational Church of Greenwich, a UCC church in Old Greenwich, Connecticut. She will help us reflect on the letter to the churches at Philippi (verses 1:1-11), in which Paul and Timothy encourage the faithful to keep on in a "love that will grow." 
Cydney writes:
Have you ever thumbed through an old photo album and found yourself full of memories and love, grateful for the experiences captured within those photos? Perhaps you whispered, "Thank you, God," as you relived one moment to the next. Or perhaps you found yourself reflecting on how much you've changed and grown, or maybe you saw something worth remembering that had been previously out of mind. Taking a trip down memory lane like this can be a worthwhile, and faithful, exercise, for our past is an important part of our story that has much to teach us about both our present, and our desired future.
I found myself doing such reminiscing this past week as I both reflected on my foundational and heart-gladdening two years spent serving with you all at United Parish, and as I searched through old boxes of photos from my childhood for a couple of pictures to share within the sermon. (Get ready for some middle school and high school aged Cydney!). United Parish was a place where I grew into my own identity as a pastor, and where I learned so much about creating and sustaining healthy and meaningful church. I carry all of that and all of you with me in my ministry, both in the present and into the future. As you all continue celebrating this wonderful mark of 50 years as a loving faith community in your corner of the world that is Brookline, I invite you to explore how God was working in you all through the past 50 years, and what from that past can help you to move even more faithfully into your future.
I'm honored and looking forward to exploring this with you in worship this week!
Join us this Sunday as we welcome Cydney back into our "virtual" midst. Tune in at 9am on our YouTube channel here or anytime thereafter.
In faith,
Kent
Summer Worship: Rooted in the past, reaching into our future
This summer, we highlight our 50th anniversary theme and hear from members and friends about how the United Parish and other parts of their faith lives have helped root them and also reach into the future. 
Upcoming homilists include:
Former Seminarians
August 1 Cydney Van Dyke (2014-16), Associate Pastor, First Congregational Church of Greenwich (UCC), Old Greenwich, Connecticut
August 8 Lindsey Franklin (2016-17), Associate Pastor for Development, Richmond Hill, Richmond, Virginia
August 15 Anna Burnham (2017-18), Research Assistant for Religious Literacy and the Professions, Harvard Divinity School, Cambridge, Massachusetts
August 22 Wilson Hood (2018-19), Hospice Chaplain, HopeHealth, Providence, Rhode Island
August 29 Jaz Buchanan (2019-20), United Parish Member in Discernment for Ordination, Chaplain Intern, Beverly Hospital, Beverly, Massachusetts
and Pastoral Resident, First Church in Cambridge (UCC), Cambridge, Massachusetts
AND
September 5 Vic Scalise, Founding Pastor, United Parish in Brookline
Recent summer homilies:
June 20 Caroline Saxton, Guest Preacher, here
June 27, Amy Norton, Associate Pastor here
July 4 Kent French, Senior Pastor here
July 11 Kendra & Chad Moore, departing members, here
July 18 Susan DeSelms, Minister of Music, here
July 25 Arielle Chernin, Brookline Food Pantry Operations Manager here
If you'd like to read or listen to previous sermons, or subscribe to our podcast, please click here.
If you'd like to watch previous worship services, please visit our YouTube page.