Elements of Worship: The Benediction
By Amy Norton
November 21, 2017 - 9:38am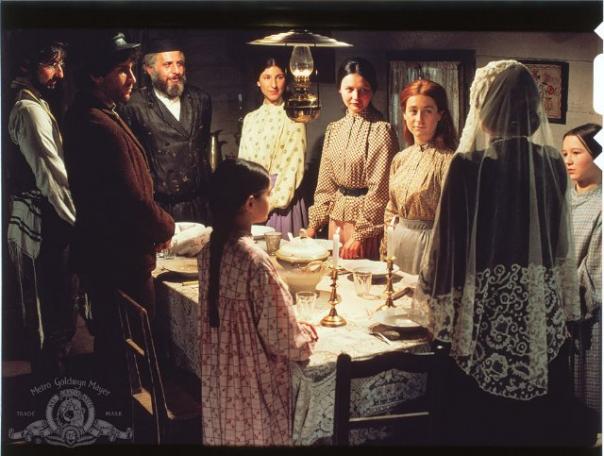 Every time I go to give the benediction, part of me wants to launch into the song "Sabbath Prayer" from Fiddler on the Roof. While re-watching it, I may bristle at some of the gender stereotypes that are at play when the parents ask God to send their daughters husbands, and to make them good "mothers and wives." I'm struck nonetheless by the feeling of love both given and received: the looks on their faces remind me of the looks you might see on Christmas morning, when a child watches their parent open the gift they made for them, or vise-versa.
Have you ever seen children fight over a coveted present? It's a tale at least as old as Isaac's time. This Sunday we'll be hearing about how Jacob and Esau fought over Isaac's blessing. And just as Isaac's blessing came with the tangible privileges of the birthright, I want us to start thinking about the blessings, and the benediction, as though they were a tangible gift, rather than just a poetic way to wrap up worship.
The Benediction, rather than looking backward at the worship service it is concluding, looks forward at the moments, days, and situations yet to come. It gives you something to take forward with you in your 'civilian' life, something to hold onto and share with others. This Sunday we're going to be talking a little more about the history of blessings and benedictions, exploring what a blessing is and what it does, and we're going to practice offering benedictions and blessings to one another.
Until then, my friends, I offer you these blessings from our sacred texts. I hope you can carry them with you for the rest of this week and as we move toward Advent, awaiting the greatest Blessing of all:
May the Lord bless you and keep you;
May God make God's face to shine upon you, and be gracious to you;
May God lift God's countenance upon you, and give you peace. (Numbers 6:24-25)
May the God of hope fill you with all joy and peace in believing, so that by the power of the Holy Spirit you may abound in hope. (Romans 5:13)
Now may our Lord Jesus Christ himself, and God our Parent, who loved us and gave us eternal comfort and good hope through grace, comfort your hearts and establish them in every good work and word. (2 Thessalonians 2:16-17)