Elements of Worship: The Peace
By Amy Norton
September 21, 2017 - 10:16am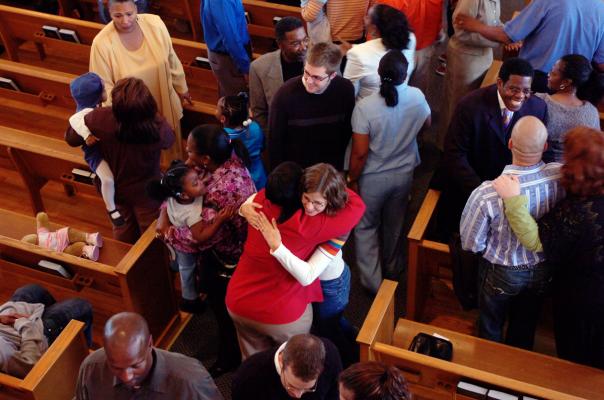 "May the Force be with you," the Jedi says to his companion. "And also with you," all my Catholic friends replied. I didn't get the joke.
Growing up a low-church Protestant in a majority-Catholic town, I didn't know what the "Passing of the Peace" was. Eventually I went to Mass with one of my friends and learned about this element of the service, and when my own church tried it once (thanks to an interim, I believe), I thought, "huh, we're trying a Catholic thing today, interesting!"
For a long time after that I thought of it like a novelty- I didn't realize there were churches that did this every single Sunday, until I was in my first Field Education placement, at a church that passed the peace every single Sunday. What at one time had felt like a somewhat uncomfortable novelty (we New Englanders can sometimes bristle at what we perceive as 'forced intimacy'), I have come to embrace as a very meaningful ritual. Not so much forced intimacy, as a practice session for the way that God calls us to relate to one another.
I learned recently that according to Islam, there are 99 names for God; these 99 names are all words that describe who God is and what God does. Some of these include The Gatherer, The Ever Returning, The Light, Incomparable, The Patient, The Trustee, The Protecting Friend, The Nourisher, The Subtly Kind, The Expander, Compassion, and Peace. I don't think that these characterizations of God are unique to the Muslim faith, however. As Christians, we, too, believe that God gathers us in; we trust in the promise that God will always return to us, in infinite patience, when we have strayed; we believe in a God who expands our hearts, nourishes our souls, and who walked among us to show us the "Way, the Truth, and the Light". So when we offer each other a greeting of "Peace be with you," we are also saying "compassion be with you," and "nourishment be with you," and "kindness be with you," and "protection be with you," and so on. In this holy greeting, we are offering others the love, gifts, and blessings that God has shown us. Jesus called us to "love others as I have loved you." To answer that call, we practice every Sunday how to receive God's love and share it with each other.
This Sunday at 11am in the Sanctuary, we'll reflect on the Letter to the Ephesians, 2:11-22, and explore a little more about what makes the Passing of the Peace so unique, and so vital to our lives as Christians.
PLEASE NOTE: at 12:30 in the Sanctuary after worship, Kent will be giving a presentation on his trip to Israel this summer, all are invited to come and learn!
All are ALSO invited to my Ordination on Saturday, 9/30, at North Community Church in Marshfield.
Until then, Peace be with all of you.
Amy