Elements of Worship: Welcoming All
By Kent French
September 6, 2017 - 7:25am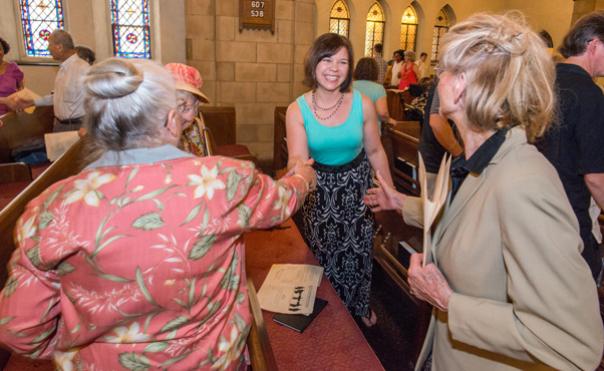 For the next several weeks, we will follow a series on the Elements of Worship, holding up and looking at each facet of our worship life and delving more deeply into what each part means. It begins with the practice of welcome.
If you've ever planned a dinner party, you know about all the thought and work that go into really good hospitality: figuring out the guest list, assessing the potential chemistry of the invitees, planning the menu, shopping for the ingredients, timing the meal prep, cleaning the house, flowers, candles, music, table settings. If you're the planner, the first few times -- or years -- that you do it,  you may get so caught up in the prep and execution, that you don't really spend any quality time with your guests. The party ends and you realize that you didn't really talk with anyone.
Some people are so seasoned at hosting a dinner, that they do it with a natural ease. It can take a lot of practice to get to that point. Some of us still struggle to coordinate it all. The bottom line about a good dinner party is gracious hospitality. Really welcoming people in. Feeding them with nourishing, flavorful food. Engaging in good conversation. Connecting. Good hosts know this and do all they can to foster that sense of welcome and belonging from the moment people walk in the door.
They smile at people, they take their coat, offer them a drink, a comfortable place to sit, ask how they're doing. They make introductions and connect people to one another.
I believe that worship is a spiritual banquet, offering a variety of liturgical dishes in ways that hopefully sustain us for the week, or until the next time we come in for a bite. And, just like a good dinner party, a sense of welcome, of gracious hospitality, of fostering belonging, needs to be at the foundation of our liturgical banquet. 
It matters how we greet one another, especially those who are new to the party. It matters if we smile, if we help people find a comfy seat (or the bathroom), offer them a cup of coffee and make introductions.
On Sunday, we will remember together how Abraham and Sarah hosted an impromptu dinner party (Genesis 18:1-15) and what that means for us as their spiritual descendants. How is welcome essential to our worship life?
We will also ease back into our autumn rhythm:
9am -- Children and Youth Choirs meet in the Choir Room and Parlor
9:45 -- Church School Convocation in the Sanctuary
10am -- Chancel Choir rehearsal, Choir Room
           Drop-In Bible Study, Deepening Room
11am -- Worship in the Sanctuary, with a special blessing of our work and school backpacks, satchels and briefcases
12:30 -- Welcome Back cookout on the Front Lawn (weather permitting)
It has been a great summer at United Parish and promises to be a great autumn. Welcome back. You belong here. And so do a lot of other people we have yet to welcome in.
In faith,
Kent