Enough, or: relying on manna in a pandemic
By Amy Norton
September 17, 2020 - 10:21am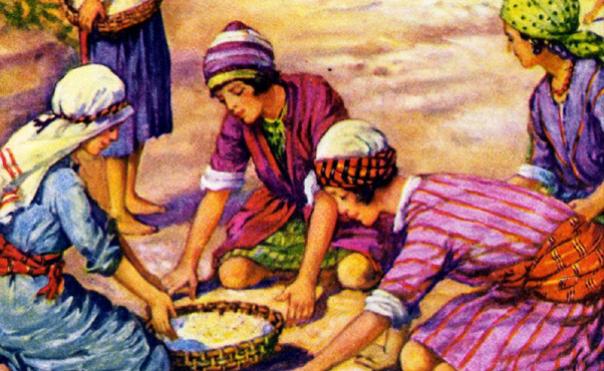 "We will get there, heaven knows how we will get there, but we know we will." 
"All manner of things shall be well."
"One day at a time."
"Bird by bird."
"Make it to midnight."
All of these mantras, prayers, and reassurances are meant as guides in an unpredictable, overwhelming wilderness. When the Israelites were in the wilderness, they began to get hungry, and even nostalgic for the food they ate while enslaved in Egypt. So God send them daily bread, called manna. It was hard to trust that the manna would be there every day, and they tried (unsuccessfully, I might add) to hoard it, but they soon learned to trust in God's providence- they learned to trust that God would ensure they had what they needed, not for the whole week or the whole month, but for the whole day, every day. 
Anyone who uses toilet paper knows that sense of vague fear, insecurity, and impulse to hoard that came over us all back in March and April. But we figured it out eventually, and we no longer buy toilet paper by the cart-full. Just what we need for between now and our next grocery trip. 
We've been in a pandemic for six months. Six. (Time for another Sabbath, no?) We're hungry for the predictability of our life in the "Before Times." When was the last time we felt truly safe? 
I can't say I have the solution; neither, likely, does Dr. Fauci, as much as I wish he were as omniscient as he is trustworthy.
But God does.
So let's gather in live worship this weekend to pray, sing, complain, learn, and listen together for the wisdom from the wilderness. 
In faith,
Amy 
Ways to connect during the week (all Zoom info in the weekly email)
Church School Classes begin! -- Sunday, September 20 at 9:30am (check emails for individual links and times to join classes) - register here if you haven't already!
Worship Hike at Prospect Hill Park in Waltham: Sunday, September 20, 3-5pm. Learn more.
Adult Drop-In Bible Study, Sundays from 10:00-10:45am on Zoom -- reflect with others on the scripture passage for worship. Learn more.
Sunday Coffee Hour: on Zoom, directly after 11:00am online worship
Tuesday Evening Prayers: 8:45-9:00pm, 15 minutes of peace via Zoom
Thursday Morning Meditation: 8:00-8:30am on Zoom. Details here.
Thursday Evening worship in Memorial Park: 6:30-7:00pm. Learn more.
Sanctuary Prayer Times: by appointment only. Monday through Friday 8:00am to 3:30pm, and Monday and Wednesday evenings. Please schedule a week in advance by contacting the Church Office at office@upbrookline.org or 617-277-6860.  
If you'd like to watch, read or listen to previous sermons, click here.
To watch previous worship services, visit our YouTube page.
Image credit: Israelites Gathering Manna, barneywidget.com