Epiphany Term Presentation
By Amy Norton
February 7, 2019 - 2:01pm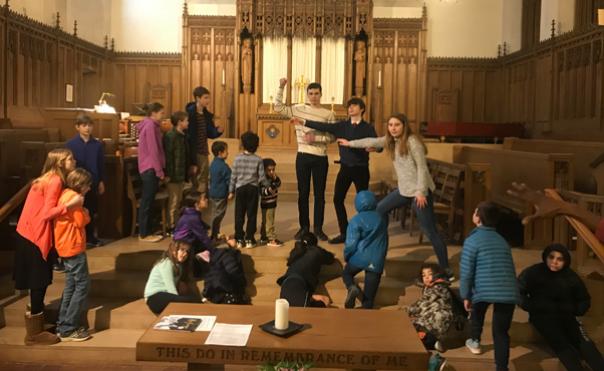 Greetings to you and peace, from the One who is and was and is to come!
Over the past 6 weeks, our children and youth (and teachers and staff) have embarked on a new project called Epiphany Term! The Church School teachers have been using a curriculum created by members of our Children & Youth Deepening Ministry Team that explores immigration and refugees, hunger and food insecurity, and diversity and identity. These lessons have been centered around learning ways to welcome and show hospitality to others, how to help our friends in need, and how to celebrate our identities as children of God- all unique and all made in God's image!
They've read books such as Refuge, Maddi's Fridge, and In God's Name; they've learned each other's stories of how their families came to live in America; they've explored some of the dynamics and preconceived notions that can go hand-in-hand with volunteering; they've revamped our food pantry donation signs; they've explored and celebrated all the little unique pieces of their identities, and much, much more.
This Sunday, our children and youth will be leading our worship service, presenting what they've learned via song, drama, reflection, and prayer. They've been working hard (alongside their teachers and parent volunteers) to translate activities they've done in the classroom into elements of a worship service, and to invite you into the celebration of the culmination of Epiphany, the season of divine revelations!
I often wax poetic to others about how our children and youth continually impress me- and this is no exception. Over the last 6 weeks, I've seen our kids embody tenderness, inquisitiveness, a thirst for justice, empathy, and friendship.
I invite you all to join us for worship on Sunday at 11am in the Sanctuary to experience the wonder of the season of Epiphany; for as the prophet Isaiah foretold, "a little child shall lead them...".
In faith and song,
Amy & Susan
If you'd like to hear the sermon from last week, or subscribe to our podcast, please click here.