Fifth Sunday in Lent: Brazen Acts of Beauty
By Amy Norton
March 31, 2022 - 1:02pm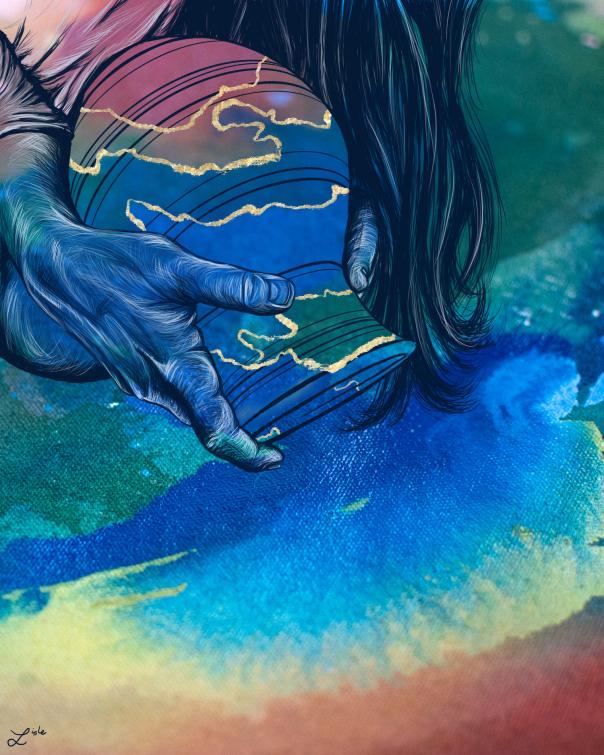 Dear Ones, 
As we move ever onward towards the Passion and Resurrection, we pause this Sunday to reflect on beauty, on being our authentic selves, and on taking a moment to pour out our souls in a 'frivolous' act of devotion. Our Gospel story is a classic Family Systems case study: Mary, Martha, Jesus, and a jar of expensive perfume. Our Lenten curriculum reflects,
"The story of Mary breaking open a jar of expensive perfume is surrounded by death. Only one chapter earlier, Jesus raises Lazarus from the dead at the risk of his own life. Returning to Judea and resurrecting the dead became the final actions necessary for the religious and political leaders to conspire against him. Yet here is this faithful family, welcoming and celebrating Christ as the outside world seeks to write a different story. As people of faith, we are called to crack ourselves open, pouring out the richness of what is within to more fully worship God. We cannot hide pieces of ourselves or grasp onto expectations that distract from what God created and creates within us. We are free to bring our whole selves as a living testimony to who God has made and makes us to be, both what we label as good and that which we hide from the world. God doesn't need our "good" behavior. God needs our being/be-ing. Remember all of you is beautiful. Live as though you are an expensive gift from God to Creation, because surely you are."
We will be re-membering ourselves as the Body of Christ this Sunday through the sacrament of communion; if you are joining us online, you are invited to prepare for yourselves whatever elements you have in your house- tea and toast, crackers and wine, coffee and a muffin, etc. to partake in the Lord's Supper with us. 
Join us on Sunday morning at 11am in the Sanctuary and online to worship, pray, learn, and sing together! As a reminder, our COVID policy was recently updated, and masks will be optional for worship beginning this Sunday, April 3. Read more.
In faith,
Amy
Opportunities in Lent
Lenten Study: Full to the Brim — Tuesdays, March 8-April 5 from 7:30-8:30pm on Zoom
During Lent, join us for a small group study to reflect on the themes of God's abundant and expansive grace, drawing from the Full to the Brim Lenten resources. We will engage Jesus' parables and promises of God's lavish love and grace, through scripture, poetry, visual art and music. Find the Zoom link in the weekly newsletter. Contact adultdeepening@upbrookline.org. Click here to learn more and download the weekly study packet.
Lenten Dinner Church — Thursdays, March 10-April 7 from 6:30-7:15pm on Zoom
Prepare your own meal at home and sit down with us for a worship service of prayer, contemplation and song. Dinner Church is a postmodern return to an ancient worship model, just like what the early Christians did in their own homes. Find the Zoom link in the weekly newsletter. Contact Thomas Mitchell at seminarian@upbrookline.org.
If you'd like to read or listen to previous sermons, or subscribe to our podcast, please click here.
If you'd like to watch previous worship services, please visit our YouTube page.
Image credit: Brazen Beauty by Rev. Lisle Gwynn Garrity, Inspired by John 12:1-8, Acrylic on raw canvas with digital drawing, © a sanctified art | sanctifiedart.org