Fruits of the Spirit: Gratitude
By Kent French
March 4, 2021 - 3:14pm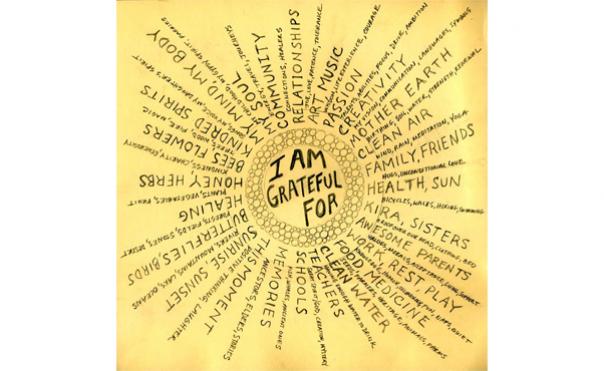 This week, we continue our Lenten series on the Fruits of the Spirit (Galatians 5:22-23) with a focus on Gratitude. 
Communion worship will be on Zoom, starting at 11am, also live-streamed and archived on our YouTube channel. Be sure to prepare your own communion at home, with whatever food and drink you have available.
While not explicitly mentioned in our anchor verses from Galatians, gratitude is an essential component of the spiritual life. When you think of some of the most spiritually grounded people you know, most likely gratitude is one of their chief characteristics. They express appreciation. Not just for people and acts of kindness, but also for the gift of life itself.
It's easy to forget to be grateful, especially when our expectations aren't met, when life throws us a curveball, when tragedy sets in, through daily annoyances. And yet, it's a core nutrient of a good spiritual diet, no matter what is happening.
We'll ground ourselves in some of the closing words of Paul's letter to the churches at Philippi (Philippians 4:4-9). We will also enjoy music from Dave Brubeck and John Bucchino.
Come and explore what gratitude means to you, to all of us.
In faith,
Kent
We hope you will make time to join these Lenten activities:
Lenten Dinner Church: Tuesdays, 7:00-7:45pm on Zoom — February 23-March 23
During Lent, we invite you to join us on Tuesday evenings through March 23 at 7pm for Lenten midweek worship on Zoom. Prepare your own meal at home and sit down with us for a worship service of prayer, contemplation and song. Please prepare your communion elements at home as well – bread or crackers, and wine or juice. Dinner church is a postmodern return to an ancient worship model, just like what the early Christians did in their own homes. For more information, contact Seminarian Katharine Henry at seminarian@upbrookline.org.
Lenten Study: Fruits of the Spirit — February 21-March 28, Sundays and Mondays
Discussion groups will continue exploring each of the spiritual fruits brought up in Sunday's worship.
Monday evenings: 7:30-8:30pm on Zoom, Contact: Deb H. (adultdeepening@upbrookline.org)
Sunday afternoon: 20/30s Group at their regular time on Zoom, 12:45-2:15pm. Contact: Katharine Henry (seminarian@upbrookline.org)
Sunday morning: our regular Drop-In Bible Study on Zoom, 10:00-10:45am. No prep necessary. Contact: Deb W. (biblestudy@upbrookline.org)
Click here for the Lenten Study Archives.
Morning Midweek Meditation - Thursdays from 8-8:30am via Zoom
Join Adam Sutton on Thursday mornings on Zoom for a calming, caring congregational connection in the middle of your chaotic week. We will hold space for some simple prayer sharing and will offer a relaxing and centering guided meditation that will leave you relaxed and renewed, ready to move into the rest of your week. Sign up by contacting Adam Sutton at adultdeepening@upbrookline.org or find the Zoom information in the weekly newsletter.
Prayer Partners for Lent
One of the best ways to help us strengthen spiritually as a community and to ward off some loneliness during this continued pandemic is to have a prayer/conversation buddy. We strongly encourage you to try this. You agree to connect at least 15 minutes each week of Lent by phone or in person, to share how you're doing and what's going on in your life. The Adult Deepening team will provide Prayer Partners with a brief guide for ways you might get to know each other, and ways to try praying together or individually on behalf of one another. Contact Deb H. at adultdeepening@upbrookline.org if you would like a Prayer Partner for Lent. We'll pair you up with someone, or you can choose someone you know. 
If you'd like to watch previous worship services, visit our YouTube page.
If you'd like to read, listen to or watch previous sermons, or subscribe to our podcast, click here.
Image credit: mindsoother.com