Fruits of the Spirit: Self-Control
By Kent French
March 25, 2021 - 9:41am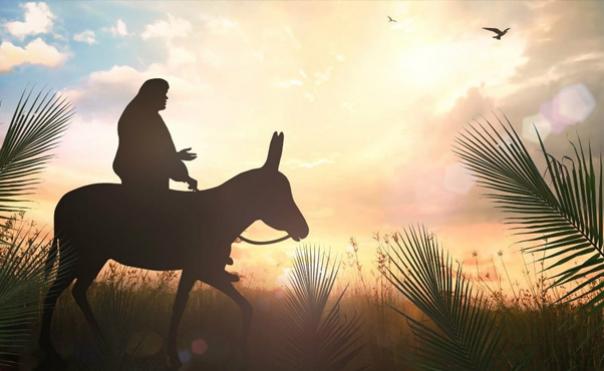 We continue our Lenten exploration of the Fruits of the Spirit (Galatians 5:22-23 expanded). So far, we've looked at humility, gentleness, gratitude, generosity, service and patience. And this week, for Palm Sunday, we come to self-control.
When we think of the traditional Palm Sunday story of Jesus' triumphal entry into Jerusalem (Matthew 21:1-9; Mark 1:1-10; Luke 19:28-38; John 12:12-19), palms waving, hosannas ringing, it's easy to think of him exhibiting all of these virtues. Rather than a white steed, he comes in humbly on a borrowed donkey. We picture this serene, gentle, kind and patient man, smiling at the adoring crowds, people he's come to serve and liberate.
But we also sense a certain level of self-control, self-possession. He knows that despite this initial jubilant reception, the week will not end well. Over the next few days, the crowds will turn on him. On Thursday, he will celebrate his last supper and be betrayed. On Friday, his closest colleague will deny knowing him and he will end up executed, lynched on a cross. On Saturday, he will lie dead in the cold tomb.
Of course, that's not the end of the story, which is why we're still here telling it. Still, you have to wonder at the inner strength and self-control of a guy calmly riding a borrowed donkey, who knows he's going to be slaughtered in a few days' times.
Self-control is that ability to put the other virtues into regular practice, even when the going gets tough, when the times are dark. It's the ability to remember who we are and to whom we belong and to choose to act accordingly. The theme runs throughout scripture (examples here). On Sunday, we'll look at one of the letters ascribed to Peter (2 Peter 1:3-11) and how self-control and living into these virtues is all a part of our calling as followers of Jesus.
We look forward to welcoming you on our YouTube channel for this worship and for other Holy Week services.
In faith,
Kent
We hope you will make time to join the last of these Lenten activities:
Lenten Study: Fruits of the Spirit — February 21-March 29, Sundays and Mondays
Discussion groups will explore each of the spiritual fruits brought up in Sunday's worship.
Sunday, March 28 from 10:00-10:45am: Drop-In Bible Study on Zoom. Contact: Deb W. (biblestudy@upbrookline.org)
Sunday, March 28 from 12:45-2:15pm: 20/30s Group on Zoom. Contact: Katharine Henry (seminarian@upbrookline.org)
Monday, March 29 from 7:30-8:30pm on Zoom, Contact: Deb H. (adultdeepening@upbrookline.org)
Click here for the Lenten Study Archives.
Holy Week 2021 at United Parish
On this, our holiest week of the year, we will continue to gather for worship online. We invite you and yours to join us.
Palm Sunday, March 28, 2021
Palm Sunday Promenade, 2:00-3:30pm. Children, families and anyone who wants to join are welcome. Palms available. More info here. You can download the stations here if you would like to participate from your own yard/neighborhood. 
Maundy Thursday, April 1, 2021  a live, interactive Zoom worship service
6:45pm Foot-washing Ritual
Prepare a basin of water and/or wash cloth and towel and re-enact this loving, serving act of Jesus to his disciples (recounted in John 13). You can choose whether to wash your own hands or feet and/or do it for others who join you at home.
7pm Communion Worship
Prepare communion at home (wine & bread, juice & crackers, tea & scones, milk & cookies, whatever works for you). We will remember Jesus' last gathering with his disciples and share this holy meal in small groups, just as we do in our Sanctuary.
Zoom information will be sent out via email.
Good Friday, April 2, 2021, 7pm  a pre-recorded YouTube worship service
We commemorate the darkest night of the liturgical year, as we reflect on the seven last words of Jesus during his execution, with contemporary and historical images of the ways we travel these stations in everyday life. This is a powerful, moving, and provocative worship experience.
Watch on our YouTube page.
Easter Sunday, April 4, 2021, 11am
Join us for the joy of Resurrection Day with virtual worship on our YouTube page, followed by Zoom Coffee Hour.  We will send out a reminder and link on Easter morning.
Easter Flowers 1-3pm. We will also have Easter flower distribution in front of the church from 1-3pm.
If you'd like to watch previous worship services, visit our YouTube page.
If you'd like to read, listen to or watch previous sermons, or subscribe to our podcast, click here.
Image credit: crosswalk.com