Gaining new sight this Lent
By Kent French
February 8, 2018 - 10:11am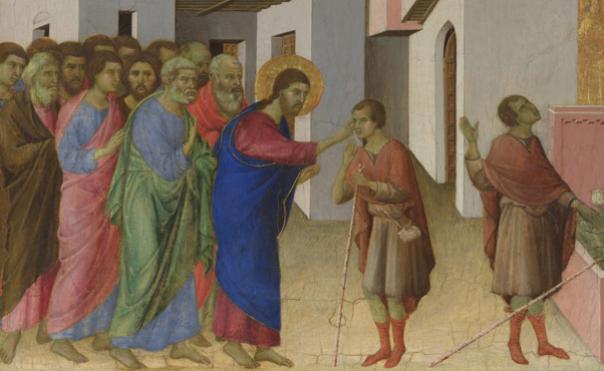 The season of Lent is upon us. I'm excited.
It may seem weird to be excited about Lent. It's a penitential season, right? You're supposed to confess more, wear ashes and sackcloth, give up stuff you really like, correct? Maybe.
I like Lent, because in the cold, enduring days of northern hemispheric winter, as the days lengthen (Old English -- lencten), Lent is an invitation to dig in, to find something new, to remember our souls in deeper, more intentional ways. It means it's OK to be quiet or to treasure your soul and your connection to the Life-Giver of the Universe more than usual. 
As always, United Parish has several opportunities for you to dig into the season.
Pancake Supper, this Sunday evening, 5-6:30pm
To celebrate Shrove Tuesday (or Mardi Gras), our Gathering Team is hosting a pancake supper this coming Sunday evening, 5-6:30pm in our Parlor. Come for some pre-Lenten feasting.
Ash Wednesday, February 14, 8am and 7pm
We begin Lent this Ash Wednesday, also Valentine's Day, February 14. We will have two worship services: 8am and 7pm, both in the Chapel. Love and ashes, together. Amy and I may also offer ashes on our front lawn at some point throughout the day. Come and remember both your humanity and the importance of divinity.
Midweek Worship, Thursdays, 6:15-7pm, February 22-March 22
We're going to try something new. Still contemplative, still beautiful, still candlelit. We're going to try "Dinner Church" or perhaps, "Table Worship." A contemplative service around the table, with a shared meal of soup and salad, communion, some prayer and confession and some music. Dinner church is a post-modern return to an ancient worship model -- just like what the early Christians did in their own homes -- and has been sweeping the country. I hope you will come and try it out. I am pretty sure you'll be glad you did.
Getting Real with God study series
Our Adult Deepening Team has developed a remarkable study series for us on what it means to "Get Real with God," to practice our spiritual connection to the divine in new and old ways.  The series is in five parts, continuing after Easter:
1. Exploring the Many Ways We Pray
2. Trying Ignatian spirituality and the daily examen
3. Listening to the Easter Story in a New Way
4. Experiencing God in Body & Spirit
5. Doing Justice as Easter People, as Christ's Hands & Feet in the World
For more information, email adultdeepening@upbrookline.org or amy@upbrookline.org.
Your own Lenten devotion
During this season, I encourage each of us to practice our own personal Lenten devotions. Make it something that will help you become more available and transparent to the love, energy and will of God. Maybe it will help you to give something up: like alcohol or high-glycemic carbs, or Facebook, or the daily news. Or…maybe you want to take something on: like 10 minutes of prayer every day, regular silence breaks, a walking practice, random acts of kindness.
Just let your imagination soar over the possibilities. Get creative. Lent is a time to get more serious about and really value soul-transforming activities for our lives. How can we shake things up spiritually in some life-affirming, soulfully intentional ways? Whatever you decide, make sure it's within reach. Don't overstretch it. Give yourself some reasonable standards. And reassess along the way. To help you, we have the following:
Prayer Partners
Would you like a spiritual workout partner during this season, to connect through prayer and help you keep soulfully fit? Sign up to be paired with someone or choose someone you know. Make a covenant with your Prayer Partner to connect at least 15 minutes each week of Lent by phone or in person. Our Adult Deepening Ministry Team will provide a brief guide to help you. Sign up online here or contact adultdeepening@upbrookline.org.
Lenten Fasting
The Stretching into Justice team invites you to donate money that you would otherwise spend on daily luxuries as a form of Lenten fasting--whether it's your daily Starbucks run or the sandwich you buy at the deli every day. Your small "fast" can help feed others. The team will collect our fast donations on Sundays to support the Brookline Food Pantry. Place any donations in the purple boxes marked "Fast to Share," or find a member of the Stretching team. As always, we welcome non-perishable donations for the Food Pantry to be placed in the baskets around the church. Contact Seminarian Anna Burnham at anna@upbrookline.org with any questions.
This Sunday, February 11
And this Sunday, we will conclude the season of Epiphany with a story about a blind man who gained his sight, and nobody knew what to make of it (John 9). It's a strange, hard-to-follow story. I am still trying to make sense of it. Come pray with me, and we will figure it out together. Our Cherubs and Carolers children's choirs and our Chancel Choir will be there to help us.
Image credit: The Healing of the Man Born Blind by Duccio, The National Gallery, London