By Kent French
November 18, 2021 - 6:51am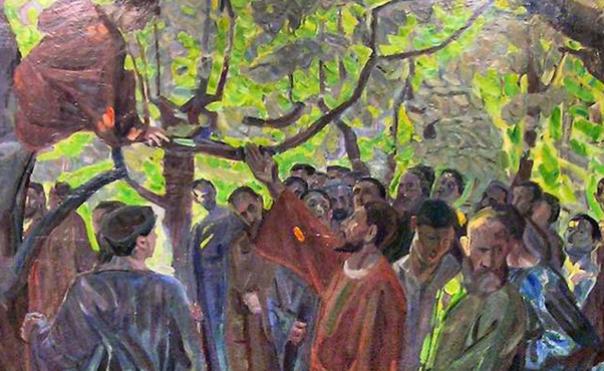 November 21: Autumn All-Parish Meeting following worship, in the Sanctuary and on Zoom. Find out what God's doing in our midst.
Some of us will remember the Sunday School song:
Zacchaeus was a wee little man,
A wee little man was he.
He climbed up in a sycamore tree
For the Lord he wanted to see.
 On Sunday, we will look again at the story of this peculiar tax collector (Luke 19:1-10) following along with our Church School curriculum of Seeking Justice Together (see more here). We've heard about him before in recent years, from Amy in November 2019 and from Mary in July 2016. 
Short, curious, and rich, this agent of the Empire just had to find out more about the capenter-healer-rabbi from Nazareth. And when he did, in one brief, simple, stunning moment, it changed his life. I wonder what that would be like.
This Sunday, we'll re-consider the story from Zacchaeus' point of view, what motivated him and even imagine what happened next. If you've ever felt curious, uncertain, maligned, insecure, needing a way to contribute but not sure how: Zacchaeus knows your story. And Jesus does, too.
In faith,
Kent
If you'd like to read or listen to previous sermons, or subscribe to our podcast, please click here.
If you'd like to watch previous worship services, please visit our YouTube page.
Image credit: Painting of Zacchaeus the rich tax collector in the tree (Luke 19:1-10), by Niels Larsen Stevns, Danish Painter, 1913. (Image: Gunnar Bach Pedersen [Public domain], via Wikimedia Commons)