Hearing the Horns of Joshua
By Kent French
November 8, 2018 - 8:52am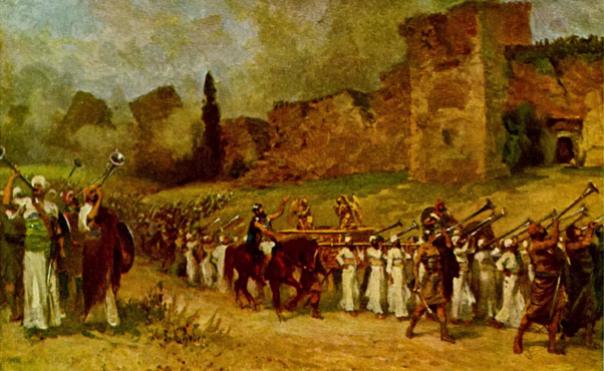 This Sunday, we have an opportunity that few churches get to experience: we will hear a brand new musical piece that has been commissioned especially for us.
A few years ago, two members of our Chancel Choir commissioned then-section leader, Christopher LaRosa, to compose a choral piece that would incorporate trombones, honoring our long-standing relationship with the Boston University Trombone Choir. They looked to the Book of Joshua, chapter 6, and the famous story of the Israelites blowing their horns and causing the walls of Jericho to come tumbling down.
Our Chancel Choir has been working for months to learn this challenging, provocative and arrestingly beautiful piece to offer for our worship this coming Sunday. Our trombonist friends will join us. It is going to be a highlight of our liturgical year. You can sample the work here.
As Christopher can tell you and as I've been re-discovering, Joshua is a challenging book for modern progressive Christians. It appears to sanction things like manifest destiny, genocide and wholesale massacre in order to get what you think God wants you to have. It also has a deeper message of what it means to be in an ongoing relationship (or covenant) with God, to follow the ways God may be leading you, to break down barriers and act like a leader yourself. 
Sunday is also the 100th anniversary of the end of World War I, and the armistice (the laying down of arms) that began on the 11th hour of the 11th day of the 11th month. Armistice (now Veterans) Day was instituted a year later. As we reflect on the violence in Joshua, we will also take a moment to remember the veterans in our lives.
The lingering questions I will bring to worship are:
How, like Joshua, do we fight faithfully for what we believe God is calling us to do?
What walls do we need to tear down? And how do we do it in ways that honor the ministry and example of Jesus?
As always, I look forward to the privilege of probing these deeper questions of life with you.
Click here to hear Seminarian Wilson Hood's sermon, "Choosing the Kin-dom" last Sunday.
Upcoming Events
All-Parish Meeting and Potluck — Sunday, November 18, 12:30-2pm, Willett Hall
Brookline Annual Interfaith Worship — Sunday, November 18, 3:30pm, All Saints Parish, 1773 Beacon Street
Image credit: Destruction of the walls of Jericho - (L'Histoire Sainte). The Biblical account of the destruction of Jericho found in the Book of Joshua, Old Testament, dated to around 13th century BC. Illustration based on the original canvas by Robert Leinweber.(1845-1921).