By Amy Norton
April 1, 2021 - 1:57pm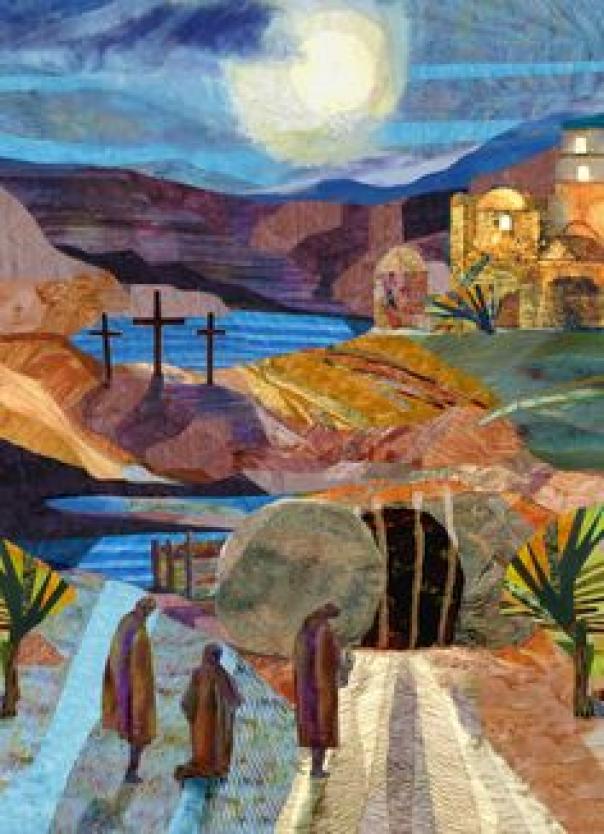 Holy Week 2021 at United Parish
Dear Ones, 
With all of the events of the past year...with all of the events of the past week, it feels like we have been dwelling in Good Friday for quite some time. And yet, despite the goings on of the world around us, Christ has been born, Christ has offered up his friendship, teachings, and love, and Christ will soon be betrayed by a friend and executed by the state while we stand by in the crowd and watch. Each year when we get to Maundy Thursday, I hear in my head this blunt warning from Susan Cooper's The Dark is Rising, spoken by one of the 'Old Ones',
"Tonight will be bad, and tomorrow will be beyond imagining."
This is the hard part of the story, but we also know that it is not the end of the story. We have the gift of hindsight and knowing that we are Easter people, and yet we cannot get to Easter without stopping at the cross. We cannot have resurrection and new life without the death of what once was. 
I invite you to dig deep over the next couple of days to let yourself dwell just a bit longer in the sacred darkness of Good Friday, to travel with Christ to the cross, to let whatever needs to die stay up there on skull hill, and then journey with us to another Easter morning, with room in your heart for even just a bit of Joy. 
It is a hard journey, I am so grateful to travel it with you. 
In faith,
Amy 

Maundy Thursday, April 1st, 2021 a live, interactive Zoom worship service
 6:45pm Foot-washing Ritual.
Prepare a basin of water and/or wash cloth and towel and re-enact this loving, serving act of Jesus to his disciples (recounted in John 13). You can choose whether to wash your own hands or feet and/or do it for others who join you at home.
7pm Communion Worship.
Prepare communion at home (wine & bread, juice & crackers, tea & scones, milk & cookies, whatever works for you). We will remember Jesus' last gathering with his disciples and share this holy meal in small groups.
Click here for details.
Good Friday, April 2, 2021, 7pm on our YouTube page
We commemorate the darkest night of the liturgical year, as we reflect on the 7 last words of Christ, with contemporary and historical images of the ways we hear these words cried out in everyday life. This is a powerful, moving, and appropriately provocative worship experience. 
Click here for details.
Easter Sunday, April 4, 2021, 11am.
Join us for the joy of Resurrection Day on our YouTube page, followed by Zoom Coffee Hour.  We will send out a reminder and link on Easter morning.
 
Easter Flowers 1-3pm. We will also have Easter flower distribution in front of the church from 1-3pm.  Donations for flowers will go to our United Parish Missions Giving, which supports worthwhile endeavors locally, nationally and internationally.
If you would like to contribute financially to the work and ministry of United Parish, we welcome your support here.
To see check out recent Sunday online worship services, see our YouTube page here.
If you'd like to read or listen to previous sermons, click here.
Image credit: http://miketorevelldesigns.blogspot.com/