By Amy Norton
September 13, 2018 - 11:28am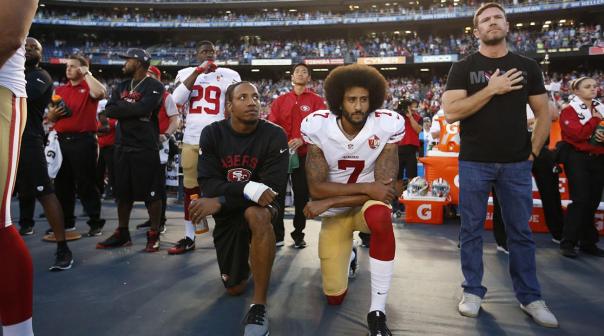 Greetings, Beloved Children of God!
To hear a recording of Kent's sermon last Sunday, click here!
As many of you are already aware, having grown up in Massachusetts, I am an unapologetically (ok, a little apologetically) obnoxious Patriots fan. I played rugby for 8 years, so there will always be a small, special place in my heart for contact sports, even as I go about my day-to-day life a pacifist.
I also have a problem with the way that the NFL and its collective fandom (myself included) have spent more time griping about Roger Goodell's absurdly harsh treatment of Tom Brady, and not enough time talking about the way that the NFL has too-often under-penalized or ignored all-together players who commit acts of domestic violence. It's a complicated relationship, football and me. Which is why as we moved through the end of last season, then the off-season, and into a new football year, I was particularly tuned in to the ways that more and more players, emboldened by the activism of men such as Colin Kaepernick, are using their voices to advocate for social and racial justice.
They're still playing, though, and Kap is still unemployed. Nike may be profiting off of the controversy by creating (admittedly inspiring) ads, but Kap is still blacklisted by his industry. Reading one of this week's scripture passages, Isaiah 50:4-9, I'm reminded that pursuing God's kind of Justice, God's kind of kingdom, is still seen by many as a crazy dream. And yet we are called to "believe in something, even if it means sacrificing everything," and isn't that what God is talking about through the prophet Isaiah?
The Lord God has opened my ear, and I was not rebellious, I did not turn backward. I gave my back to those who struck me, and my cheeks to those who pulled out the beard; I did not hide my face from insult and spitting. The Lord God helps me; therefore I have not been disgraced; therefore I have set my face like flint, and I know that I shall not be put to shame; he who vindicates me is near. Who will contend with me? Let us stand up together. Who are my adversaries? Let them confront me. It is the Lord God who helps me; who will declare me guilty? All of them will wear out like a garment; the moth will eat them up.
Not all of us have the natural amplifier that comes with celebrity, but we do all have a voice. What are we willing to sacrifice by using our voices to pursue the wild dream of ushering in God's kingdom? I hope to see you all in worship on Sunday so we can dream big together.
In faith,
Amy
Photo Credit: Michael Zagaris/San Francisco 49ers/Getty Images