By Wilson Hood
January 17, 2019 - 10:27am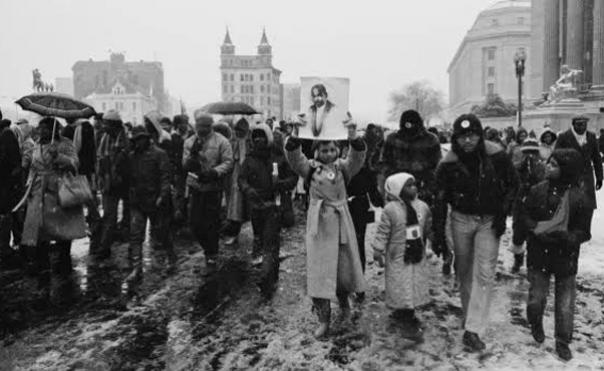 This Sunday, as our community joins together for our regular weekly gathering, we will also be making time in our church school and worship to center on the legacy of Rev. Dr. Martin Luther King, Jr., as we typically do every year on the Sunday before the federal holiday in his honor.
Many people know that Martin Luther King, Jr.'s birthday is a national holiday. But did you know that MLK Day was only officially declared a national holiday in 1983, a decade and a half after King was assassinated in 1968? While the first push for a holiday in King's honor came from Rep. John Conyers just four days after King's assassination, the initial effort was sidelined. Every year for 15 years, Rep. Conyers and the Congressional Black Caucus continuously introduced legislation which the majority-white Congress ignored.
What changed the tide of history? People power. By 1983, a petition for MLK Day had reached six million signatures, and the 20th-anniversary gathering of the March on Washington drew more than 250,000 people to the nation's capital. It took everyday, average folks- people just like you and me- signing up, showing up, and speaking up. It took hard conversations and small acts of courage. It took a movement.
When we talk about the legacy of Martin Luther King, Jr. and the day named after him, I think it is far too easy for us, and especially for those of us who are white, to focus solely on the man and to forget the message and the people-powered movement to which he devoted his life. When we tell the story of how social change happens, how often do we focus on icons instead of what they actually said or all the unsung people who worked and sacrificed right alongside them?
Our Gospel text for this week also points us toward the beginning of a social movement- this time, Jesus' first public act of ministry in the wedding at Cana (John 2:1-11). Much as we tend to boil down the history of the Civil Rights and Black Freedom struggles to the image of iconic leaders like Dr. King, I think we also tend to boil down the story of the Christian movement's beginning to the figure of Jesus himself.
And Jesus, certainly, is worth thinking about. But what happens when we expand our vision of this story? Whose legacies are waiting, just beyond the edge of the frame, to be explored and celebrated? And what does this wider lens demand of us, right now? Who are we called to be?
Join us on Sunday as we encounter these questions together.
To hear last week's sermon and subscribe to our podcast, click here!
Image Caption: Photograph of a march in Washington, DC publicly campaigning for Martin Luther King, Jr's birthday to be recognized as a federal holiday, taken January 15, 1981.
Image Credit: Jonathan C. Katzenellenbogen/Getty Images