Listening for the Still Small Voice
By Kent French
February 27, 2020 - 8:58am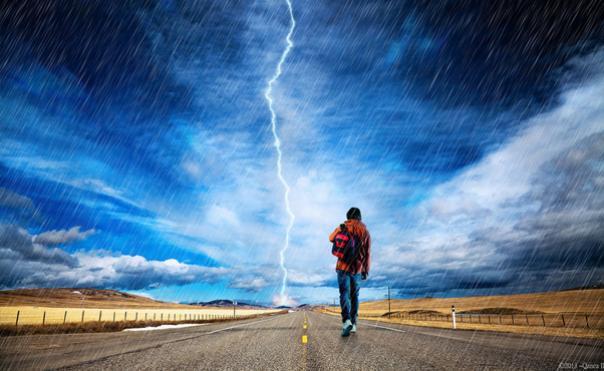 There's a fairly well-known story from the Hebrew scripture about the prophet Elijah (1 Kings 19:1-18). He has been speaking truth to power, which is what prophets are called to do. In this case, it's to the evil Queen Jezebel and King Ahab, who have forgotten their relationship with God. They are chasing after Elijah and he is literally running for his life.
After a full day's journey running in the wilderness, he is ready to call it quits. He falls asleep under a broom tree, totally exhausted. An angel wakes him up with some food. He ends up hiding out in a cave. He hears the voice of God, asking very simply, "What are you doing here, Elijah?" Elijah explains that he's been trying to do God's work, he's been very zealous about it, and it's just not working well. A mighty wind, a fire, an earthquake all come along, but it isn't until a still, small voice, literally, "the sound of sheer silence," that Elijah gets it.
In our noisy world, we often have trouble hearing the "still, small voice" of God, often speaking to us somewhere deep within our center. The season of Lent is a good time to practice listening for it.
This year at United Parish, we have several ways for you to do this.
Lenten Study: Discernment, Finding Clarity in the Chaos, March 1-April 5
How do you find a way when you don't know what to do? Are you wrestling with some questions you want help answering? Would you like to try walking in partnership with the Divine?
We heartily invite you to come for an introductory session this Sunday, March 1 from 12:30-2pm to learn more over lunch in the Parlor.
This promises to be a helpful study for all of us.
We will hold regular study sessions throughout the season on Sundays and 1-2 weekday times, based on need and availability. Sign up here. For more information, contact Kent at kent@upbrookline.org or Deb H. at adultdeepening@upbrookline.org.
Prayer Partners in Lent
We especially encourage everyone to sign up for a prayer partner this Lent. You may think that you are not that spiritual, or that you don't know how to pray, or even if you do, you don't want to share that with someone else, that it's private. That's OK. Just give it a try. It's a holy experiment, basically committing to having a spiritual buddy in the congregation with whom you talk for 5-15 minutes each week from now through Easter (April 12). Sign up here. Download this brief guide for more information. Contact adultdeepening@upbrookline.org. 
Thursday Lenten Dinner Church, 6:15-7pm, Parlor, March 5-April 2
Once again, we will hold this popular, contemplative, candlelit worship over a shared meal on Thursday evenings, from March 5 through April 2 from 6:15-7:00pm in the Parlor. Doors open at 6pm.
Dinner church is a postmodern return to an ancient worship model, just like what the early Christians did in their own homes. We'll enjoy soup, salad, communion, prayer, confession and music.
For more information, contact Seminarian Jaz Buchanan at seminarian@upbrookline.org
or Associate Pastor Amy Norton at amy@upbrookline.org.
Sunday Lenten Worship
We will follow the themes of our Lenten study of discovering what Discernment means and how to find clarity in chaos, each Sunday morning at 11am in the Sanctuary.
I look forward to traveling this Lenten journey with you again this year.
In faith,
Kent
If you'd like to read last week's sermon, or subscribe to our podcast, please click here.
Image by Qanea II via vestermiles.wordpress.com