By Kent French
September 9, 2021 - 10:30am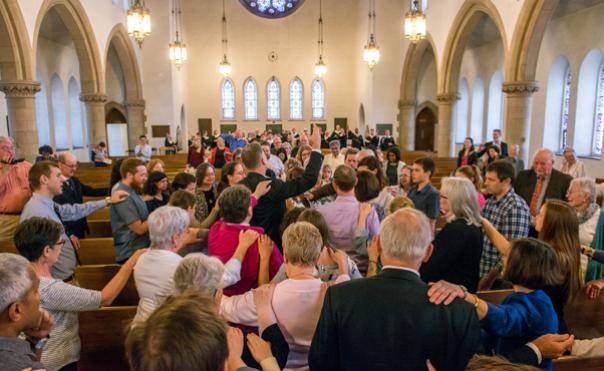 After eighteen months, we are finally going to hold worship in our beautiful Sanctuary again. It's a little hard to believe that we have gone this long without it.
All through this pandemic, we have gathered with ingenuity and faithfulness, both online and outdoors. We have Zoomed and pre-recorded and chatted and hiked and strolled and held outdoor worship in our Memorial Park. The creativity and resilience has been truly inspiring. Based on our summer survey, 70 of you indicated a strong desire to re-gather and experience the well-worn love and grandeur of our Sanctuary again. And so we begin again.
After months of discussion, prayer and planning, we are seeking to offer the sanest and safest experience we know how. As we've all seen, things will change as the virus and pandemic change. Public health officials will keep trying to get ahead of it and encourage our help. We at United Parish are listening to the scientists. And our guiding principle is the same one that we hear and review again and again from the Torah, the prophets and Jesus Christ: to protect the most vulnerable among us.
Some basic guidelines:
• we encourage all members who can to get vaccinated
• indoors, we will require that all people be masked and observe six feet of physical distance from those not in your "pod"
• we will require all worshipers to check in, either on our Realm online directory or with our ushers
• for those who wish or need to stay home, we will be livestreaming our worship on our YouTube channel here.
For more information, please see our Reopening Update here.
For this Sunday, September 12, we will reflect on the letter from James (1:27-2:17) and what it means to be truly welcoming. We will have music from Pete Seeger, the Jewish folk tradition, Broadway's Adam Guettel and a favorite old chestnut from Peter Christian Lutkin. It promises to be a joyful reunion!
Here's the schedule:
9:45am -- Outdoor family, kid-friendly worship, on the front lawn
  a 30-minute, joyful experiment
10:15am -- Coffee Hour on the lawn
11am -- Indoor worship in the Sanctuary
after worship -- continued Coffee Hour on the lawn
We look forward to introducing you to new staff:
Seminarian Thomas Mitchell
Multimedia Producer Teaira Perry
and Sextons Ed Thompson and Tom Lou.
And we will offer a special blessing for outgoing Multimedia Producer Jason Yu.
I am excited to see your beautiful, masked faces and to join in person in our Sanctuary.
In faith,
Kent 
If you'd like to read or listen to previous sermons, or subscribe to our podcast, please click here.
If you'd like to watch previous worship services, please visit our YouTube page.
Image credit: United Parish in Brookline, June 2017