Loving our enemies, really
By Kent French
February 21, 2019 - 9:35am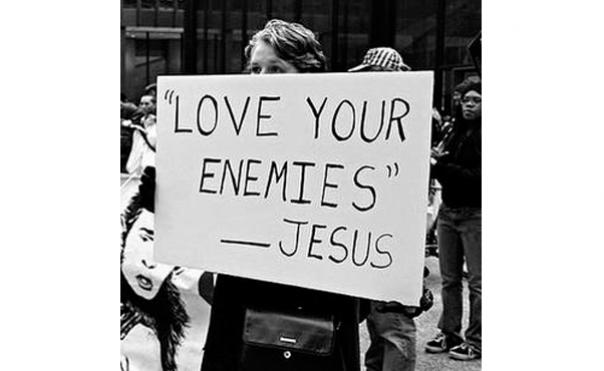 If you ever think Jesus is not radical enough, try this on:
"Love your enemies, do good to those who hate you, bless those who curse you, pray for those who mistreat you...and lend to them without expecting to get anything back." (Luke 6:27-28, 35)
They sound like nice, kind words; idealistic, pie-in-the-sky words. And if you think you don't have any real enemies, they're easy words to take down just like a vitamin with your morning breakfast. Pop them in and go on about your day, and hope they do some good.
However, in the current climate in which we hear endlessly about the divisiveness in our country, when our politicians act increasingly like taunting, ill-behaved kids on the playground, and as our media whips us further into a frenzy about it all, these words land with more immediate heft.
Jesus, as always, is calling us to get past divisiveness and enmity and dig into Love. And loving is not the same as liking. It is not the same as approving or condoning. It is certainly not the same as agreeing. It's much deeper than that. It's about recognizing our shared humanity, our shared identity as children of God and living into that awareness more intentionally. It means keeping at it day by day.
It is not easy to love people who enact laws that work against your self-interest. It is not easy to love people in power who harm the most vulnerable among us. It is not easy to love people who viciously and violently hate others. But it's what Jesus calls us to do. It's what God calls us to do, simply by giving us this gift of life. And that kind of spiritual work is not easy.
That's where I am headed in the sermon on Sunday. I welcome your presence and prayers as we remind ourselves of this deep Love together and think about how to practice it more consistently, more boldly.
New Members will be joining our community. And we look forward to welcoming members of City Strings United, an organization dedicated to bringing high-quality music education to children and youth in underserved communities. 
To read last week's sermon, click here.
Coming UP
March 1 and 3, shared worship with Temple Shir Tikva in Wayland, shabbat at 6:15pm, Friday in Wayland and 11am, Sunday at United Parish
March 6, Ash Wednesday worship, 8am and 7pm in the Chapel
March 10, beginning our Lenten season of Exploring our Faith, finding ways to explore, express and articulate our faith