Made in the Image of God: Seeing God in the Children of La Gonave, Haiti
By Amy Norton
August 30, 2018 - 12:23pm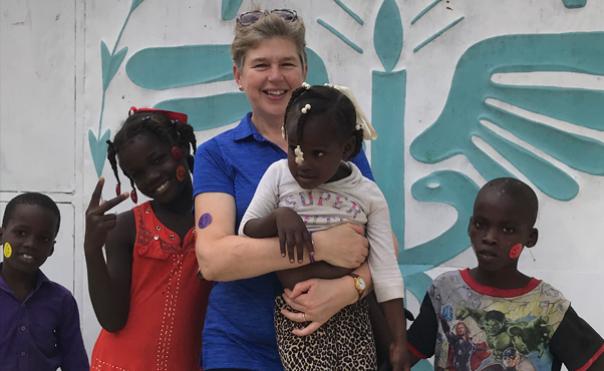 "Truly, I tell you, unless you change and become like little children, you will never enter the kingdom of heaven." -Matthew 18:3
Greetings and blessings to all of you during this hazy, hot, humid, heatwave! This Sunday will be our final summer worship service down in Willett Hall, where we'll hear homilist Leann Canty reflect on her experiences traveling to La Gonave, Haiti, and the unexpected places where she encountered the image of God. Leann writes,
This week, I will be reflecting on my experience this winter volunteering with the organization Agape Global Health for Haiti, based on the island of La Gonave, Haiti. Readers likely recall that 'Agape' is a Greek word which describes one type of love, often described as the love of mankind. I found it particularly ironic that I was traveling with a group called 'Agape,' given that I left Boston on January 13th, just two days after our president referred to it as a "****hole country". I was incredibly embarrassed to be traveling as a United States citizen in the wake of that incident, but even more determined to act as an ambassador of good will and love.
You may be aware that Haiti, the most populous country in the Caribbean, is also the poorest country in the Western Hemisphere, with an average life expectancy of 64 years old (which is a rank of 154th in the world, again, the lowest in the Western Hemisphere). Seventy-five percent of Haitians do not have running water in their homes, even more lack sanitation. On La Gonave, these statistics are even worse. There is a very high incidence of malnutrition and both infectious and chronic disease. Additionally, health care resources are extremely limited (a handful of doctors for a population of 87,000 people, no functioning x-ray machine, very limited laboratory facilities, no blood transfusions, to name just a few).
So, perhaps this is not where you would expect that someone would go and find themselves seeing God. You also might not expect to find children who despite their limited resources, are able to radiate happiness, joy and yes, hope, but indeed, that is what I found. I hope that you will enjoy hearing about the children that I met in Haiti, and my thoughts about what it means to "change and become like little children" and how we all might benefit from making that type of change in our lives.
With affection,
Leann
I hope to see you all at 10am in Willett Hall this Sunday as we worship and learn and pray together, and celebrate one last summer service before our fall kickoff!
Peace,
Amy