Milestones in Our Faith: A Welcome that Transformed Me
By Kent French
June 27, 2019 - 10:54am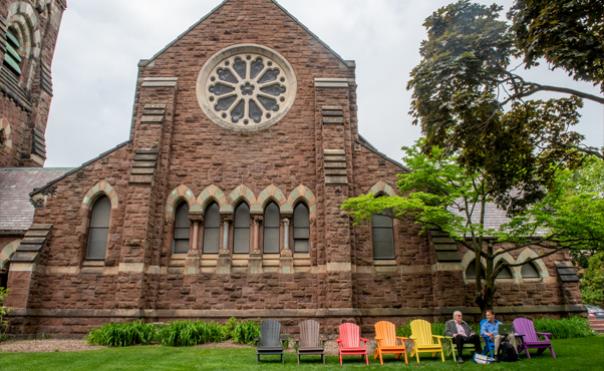 Summer Worship is at 10am, downstairs in Willett Hall
For I was hungry and you gave me food, I was thirsty and you gave me something to drink, I was a stranger and you welcomed me... Matthew 25:35
Have you ever entered a room, a building, a neighborhood or some other space where you knew no one at all? A place where you were going in essentially a stranger? How'd it feel? Were there butterflies in your stomach? Were you trying to sneak in and out, unnoticed? Were you eager to make new friends?
Almost every week we have people who come into our sanctuary and worship as strangers. Many of us first came into our community like that. And the welcome we received made all the difference about whether we stayed, tried it again or left cold.
This Sunday, we will continue our theme of "Milestones in Our Faith," and hear from Ramiro, one of our newest members, about how he came into our congregation searching, willing to give Christianity and the Church another chance to mean something in his life. And the welcome he received made all the difference. It also began to transform his understanding of faith, his work outside of church, and his thoughts about some of the larger social issues in our culture.
I warmly invite you to come and hear some of his story, to sing and pray together, to join in community. We will most likely have some first-time guests and they need your warm welcome.
In faith,
Kent
To listen to Amy's sermon last week about Trusting the Call, or to subscribe to our sermon podcast, click here.