Milestones in our Faith: Hidden in Plain Sight
By Amy Norton
July 11, 2019 - 11:24am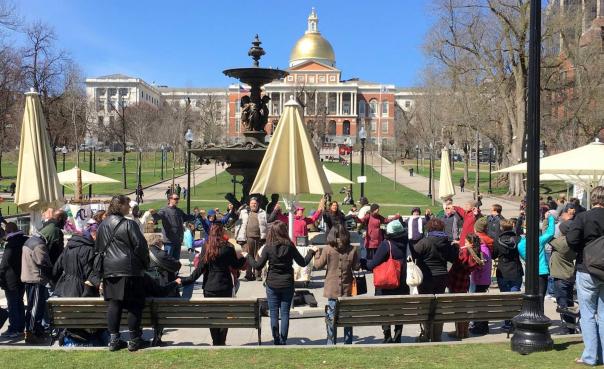 Dear Ones,
For many years now, United Parish has partnered in ministry with common cathedral, an outdoor church for the housed and unhoused that meets every week on Boston Common. Our youth have participated twice in their CityReach program, we've hosted common art gallery shows, and we've provided food and fellowship at common cathedral services. It is such a joy and privilege to be able to share in common cathedral's ministry and to learn from them about what it truly means to extend welcome to all. This Sunday, we have the delight of welcoming their Executive Director, Amanda Grant-Rose, to share her own faith milestones through the story of the Road to Emmaus, and how momentous moments in faith are often hidden in plain sight.
Amanda writes:
On Sunday, we will hear the passage about the road to Emmaus: a story about a community on a journey who come across a new friend and invite him to walk with them. It is not until much later-- many hours, many miles-- that Jesus reveals himself by breaking bread and sharing it with his new friends. Jesus can be hidden right there in plain sight. Sometimes it is not until a couple of miles down our path that we notice and see how God had surrounded us with love and community.
I hope you'll join me on Sunday morning at 10am downstairs in Willett Hall to welcome Amanda as we learn and grow and sing together. I can't wait to worship with you!
In faith,
Amy 
P.S if you want to check out last week's homily, offered by Kendra Moore, about her own "Milestones in Faith" and the way doubt has helped her faith deepen, click here!