Milestones in our Faith: The Mustard Seed
By Amy Norton
July 25, 2019 - 12:31pm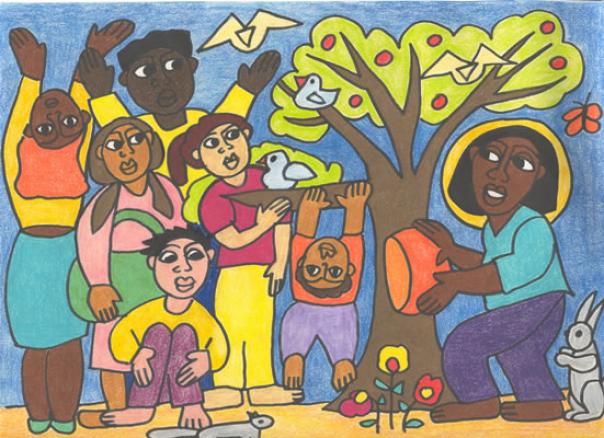 Dear Ones,
One of the joys of this summer worship series has been learning about all of the different paths that have led us to worship on Sunday morning, or even just led us to our current faith. Sometimes these paths loop around, picking up different perspectives and experiences along the way, until we find the landing spot that fits us just right and feels like home.
Our homilist this Sunday is our beloved United Parish member, Casey Brown, who will share with us their experiences moving toward, away from, and back into Christianity, continuing our "Milestones in our Faith" summer series (to hear previous homilies, offered by congregation members and friends, click here!).
Casey writes:
On Sunday, we will hear the parable of the mustard seed, one many are familiar with, but this time I will be sharing the parable from the Christian tradition and the Buddhist tradition. The milestones in my faith journey are many, as I did not grow up in the church, but chose Christianity in my teen years. The conservative version of Christianity I chose, however, did not choose me back when I came out as queer in college. Faith within community isn't always easy, but I've come to believe that it is always worth it. I look forward to sharing my story with you.
Join us on Sunday morning at 10am downstairs in Willett hall to worship, learn, and grow together!
In faith,
Amy
P.S. We'll be blessing our youth Pilgrims and Chaperones as they prepare to depart for a week of service and devotion, as well as our beloved youth member, Gary, as he prepares to return home to China after nearly a year with us at United Parish. Bring your love, well-wishes, and blessing hands!!
Image credit: "The Tree From a Mustard Seed" by Anne Brink