Milestones in Our Faith: Transformation at common art
By Kent French
August 15, 2019 - 2:04pm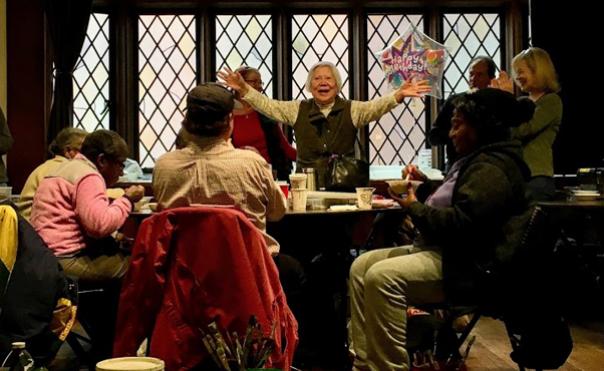 common art is an art studio for unhoused and low income people, which takes place weekly at Emmanuel Church on Newbury Street. Many of you recall past summer and autumn Sundays when we have invited artists from the studio to join us in worship and sell their works afterwards. 
Two of our members, Alicia Hsu and Terry Bruce, were so inspired by the work and ministry of common art and its community members that they decided, independently, to go check it out. Both newly retired, they became regular volunteers. I soon realized that although they were both members of United Parish, Alicia and Terry didn't know each other. I introduced them via email and they have since become good friends.
common art has been a powerful place of transformation for these two creative, thoughtful and dynamic women. They've learned a lot about life, community, order and chaos, creativity and belonging, letting go, letting be and some of the day-to-day challenges of being unhoused or living in poverty in Boston. On Sunday they will share their stories of transformation and discovery with us. 
In reflecting on their stories, we will look at Jesus' teaching:
"Therefore I tell you, do not worry about your life, what you will eat or what you will drink, or about your body, what you will wear. Is not life more than food, and the body more than clothing? from the Gospel of Matthew (6:25-34).
And Paul's advice to the church at Rome:
"Do not conform to the pattern of this world, but be transformed by the renewing of your mind," from the letter to the Romans (12:1-8).
And we will reflect together on how Alicia and Terry found a new way to look at their usual worries, conformity and transformation and how all of us are called to do likewise.

We will share sacred meal, hear Paul McCartney's reminder to "Let It Be" from two of our youth and welcome back Jodi Hitzhusen as our guest musician. I look forward to sharing all of this with you.
In faith,
Kent
If you'd like to read or listen to previous homilies from worship, click here.