By Amy Norton
June 1, 2022 - 2:25pm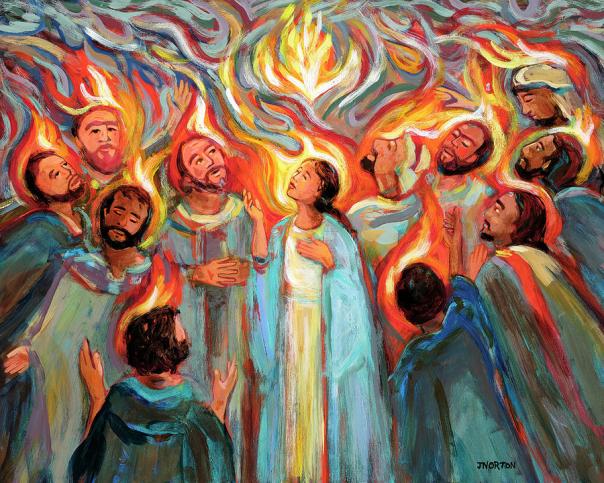 Dear Ones,
As we mark the celebration of Pentecost, the liturgical holiday when the Holy Spirit swept in like a fiery tornado unleashing radical understanding amidst the worshipping crowd, it struck me that we are celebrating some miracles of our own.  
The story of Pentecost depicts a moment when the Spirit intervened to sew understanding and connection amidst a disparate crowd, leading to deepened connections and a flourishing community. This Sunday, in an era when most news articles about church ministry are about dwindling numbers, we get to celebrate welcoming a cohort of new members into our midst, forging new connections and new community! 
This Sunday, amidst a world rife with betrayal, violence, and injustice, we get to share Communion together.  With this meal we are re-membering ourselves as the Body of Christ, and remembering the miracle of a forgiveness that was offered even to the betrayer. Like the disciples who each asked "is it I who will betray you?" we, too, recognize our own capacity to cause harm, and seek to move ever closer to God's love as it is lived out in community. 
Much like the early church on that fateful Pentecost day, the Holy Spirit can radically change our perspective and understanding of the world around us. With a rush of wind or a flash of fire we suddenly see abundance where there once was scarcity, forgiveness when we thought we were forsaken or condemned, community where there once was loneliness, and resurrection where there once was death. 
Join us on Sunday at 11am in the Sanctuary and online to celebrate the miracle together! 
Peace,
Amy 
If you'd like to read or listen to previous sermons, or subscribe to our podcast, please click here.
If you'd like to watch previous worship services, please visit our YouTube page.
Image credit: Pentecost, by Jen Norton