Moving Christmas Eve Online
By Kent French
December 22, 2021 - 2:33pm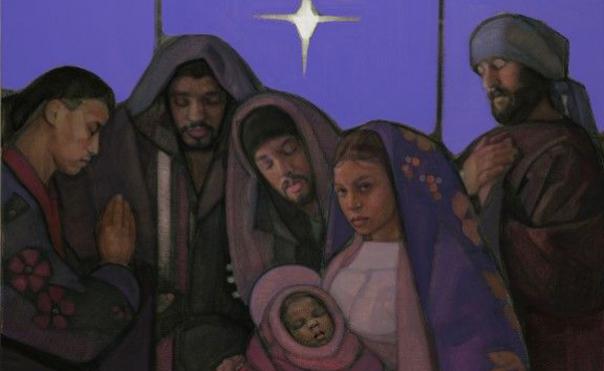 Out of an abundance of caution, we will hold our Christmas Eve worship online. Our staff reached this decision in consultation with our Reopening Team, other pastoral colleagues and houses of faith and in evaluating the latest public health news. Our worship will be live-streamed on our YouTube channel. We are monitoring our own internal COVID rapid testing among staff and choir to determine who will participate.
Christmas Eve, December 24, 2021
6:30pm Musical Prelude, 7pm Lessons & Carols Worship
On our YouTube channel here, worship order here.
Sunday, December 26, 2021
11am Worship on Zoom (check your emails for link)
December 22, 2021
Dear United Parish:
Many of us have been looking forward to being in person this Christmas Eve, perhaps more than any other worship service. For one of the holiest nights of our church year, we have been longing for the shared candlelight and the warm glow of gathering in person around the story of Bethlehem, remembering how God showed up in an unexpected, out-of-the-way, humble, counterintuitive way and ended up changing human history.
And once again, the unpredictability of a virus has caused us to reconsider our plans. As you recall, there were plenty of last-minute pivots and changes of plans for Mary and Joseph, not just in Bethlehem, but in the weeks leading up to the birth as well as weeks later when they had to flee to Egypt (Matthew 2:13-23). For us, just as for them, the key question is how to remain faithful to God in all of this.
Over the past several weeks, the choir and soloists have been rehearsing, we've been figuring out all of our COVID protocols, we've been recruiting more ushers. The bottom line is that this week, our region is at a critical moment with the highly contagious omicron variant. COVID rates are tripling weekly in our schools, hospitals are filling up, universities and businesses are already suspending in-person gatherings in January. After much prayer and consideration, in consultation with colleagues and other congregations and listening carefully to the latest public health news, we will hold Christmas Eve worship online our YouTube channel. The current plan is to livestream with our choir and worship leaders in the Sanctuary, but this may change. Please stay tuned to your weekly emails. We had already planned to hold Sunday, December 26, worship on Zoom which will also be livestreamed to YouTube. (FYI: this may be a harbinger for January, as well.)
Not only do we want to continue looking out for the most vulnerable in our immediate community, we also want to avoid contributing to the overwhelming surge in our hospitals and healthcare facilities. Despite some of the prevailing winds in our broader culture, we Christians are obliged to remember that we are all in this together. If you know someone who works in healthcare, particularly in places that are facing this latest surge head-on, please remind them regularly of your friendship and support. If you know someone who is alone this holiday, please do the same.
Regardless of how we celebrate Christmas Eve, we will gather once again around this life-changing story, with the same faithfulness, perseverance and hope that got Mary and Joseph to the manger in the first place.
In faith,
Kent
If you'd like to read or listen to previous sermons, or subscribe to our podcast, please click here.
If you'd like to watch previous worship services, please visit our YouTube page.
Image credit: The Night Visitors by Janet McKenzie, Collection of Mepkin Abbey