By Amy Norton
February 14, 2019 - 1:20pm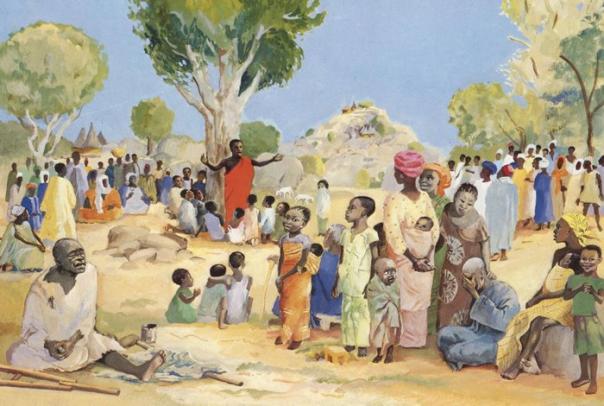 Dear United Parish family,
Over the next couple of weeks, we'll be diving into a sermon that Jesus gave to his followers (this Sunday in Luke 6:17-26 and next Sunday in Luke 6:27-38). In Matthew's Gospel, these passages are called the Sermon on the Mount, as Jesus delivers it from atop a high hill, reminiscent of Moses declaring the Ten Commandments from atop Mount Sinai. In Luke's Gospel, these passages are called the Sermon on the Plain, as Jesus delivers it on a field, on the same level as his followers.
This sermon is where we get some of Jesus's 'greatest hits', such as loving your enemies and turning the other cheek, treating others the way you want to be treated, removing the log from your own eye before attending to the splinter in your friend's. This sermon also gives us the Beatitudes, or the Blessings- you may remember these- Jesus says:
"Blessed are you who are poor, for yours is the kingdom of God. Blessed are you who are hungry now, for you will be filled. Blessed are you who weep now, for you will laugh."
Pretty encouraging, especially if you're dealing with any sort of struggle in your life, the promise that God will meet your needs. But Luke's Gospel also includes a section that some clergy have humorously called the "woebetudes", which can be a bit more disconcerting:
"But woe to you who are rich, for you have received your consolation. Woe to you who are full now, for you will be hungry. Woe to you who are laughing now, for you will mourn and weep."
It can be a tricky text for preachers- it can often come across as though anyone who is #blessed with material wealth or comfort in their earthly lives will be met with divine punishment in the afterlife. I don't think that that's what Jesus is getting at, however. Rev. Ann Svennungsen reminds us of how our culture preaches that "You are just one purchase away from true happiness". What if Jesus is reminding us that attempting to purchase blessings will only bring us woe, but that even the poorest, most outcast, forgotten nobodies around us can find great blessings in God, no purchase necessary?
I'm already looking forward to seeing you at 11am on Sunday in the Sanctuary, to explore and learn and worship together.
In faith,
Amy
Image credit: JESUS MAFA. The Sermon on the Mount, from Art in the Christian Tradition, a project of the Vanderbilt Divinity Library, Nashville, TN. http://diglib.library.vanderbilt.edu/act-imagelink.pl?RC=48284 [retrieved February 15, 2019]